Welcome to the 2023 Recruiter Investing in Talent Awards.
With experts representing top global and UK companies and leading organisations, the judging panel will decide winners in 19 categories for companies and individuals operating in the recruitment profession and industry.
The rigour of our judging process, and the authority, credibility and expertise of our judges make the Recruiter Investing in Talent Awards well worth entering and winning.  Through our Awards, we support and cheer on recruitment professionals, and those who supply them, in driving standards ever higher in what is arguably the UK's most dynamic and exciting sector.
Want to know more on what makes an award-winning entry? 
Join the conversation on Twitter: @RecruiterAwards
CEO, Leadership Through Sport & Business (LTSB)
Rob has an extensive background of charity leadership, having previously served as CEO at Age UK Richmond. Prior to this he has held senior roles at a range of charities and has set up and mobilised numerous foundations and charities in the UK and abroad focussing on employment and inclusion . Rob joined LTSB in the role as CEO in November 2022. https://www.linkedin.com/in/robburton1978/
People Director, Aqua Restaurant Group
As People Director at Aqua Restaurant Group, I lead the people development function for a global hospitality company with over 30 restaurants across 12 countries. I have over 25 years of experience in the hospitality sector, working with multi-site and multi-brand organisations in a fast-paced and dynamic environment. My core competencies include designing and creating human resources strategy, policy, and culture that align with the business vision and goals, as well as fostering employee engagement, development, and wellbeing. I am also skilled in managing third party client relationships and ensuring organisational efficiency and profitability. I am an Associate Member of CIPD and a Fellow of the Institute of Hospitality, and I serve on the Advisory Board of Hospitality Rising, a platform that supports hospitality professionals and businesses. I am passionate about mental health, inclusion, and diversity in the hospitality industry, and I strive to make a positive impact on the people and communities I work with.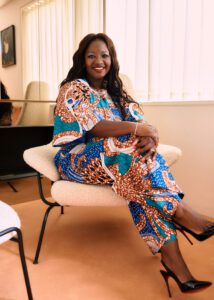 CEO/Founder, Diversifying Group
Cynthia is a multi-Award winning Founder & CEO, Tech Leader at www.diversifying.io and Founder & CEO of Diversifying Group. Recently Awarded CBE (Commander of the Order of the British Empire) in His Majesty King Charles birthday honours 2023 for services to Equality, Diversity & Inclusion. She is an executive leader, Board Chair and Trustee with over 20+ years' hands-on recruitment experience at senior level across multiple sectors, Cynthia has worked within and recruited for some of the best-known corporate, public, private and third sector organisations for Senior Executive positions up to Board Level and C-Suite.
Co-Founder, Diversifying.io
Luke Davis, Co-Founder of the BCORP-certified platform, Diversifying Jobs, and Chair of The Matt Palmer Trust, promotes mental health through sport and fundraising. With over two decades in recruitment, he's served top global agencies and renowned Financial, Tech, and Professional Services firms. Luke is dedicated to leveraging his privilege for positive change.
Head of Resourcing
Jon Hull is a seasoned Talent and Resourcing leader with extensive experience of transformation, development and creating Resourcing solutions that are commercially focussed for the businesses he has worked for. He has worked across a range of sectors and always strives to develop his teams and create inclusive and thriving cultures.
Founder, NHPR
Nicola has been immersed in the world of recruitment for more than 25 years. She's passionate about the sector and has contributed to industry best practice as a Recruitment Society Committee Member, helping to raise awareness through debate and discussion on key issues. As a press relations professional, she has placed hundreds of media articles and commentary for clients covering the full spectrum of recruitment topics.
Originally in-house at NB Selection she has worked on a retained basis with a host of leading executive search firms including Kingsley Gate, Odgers Berndtson, Heidrick & Struggles, Warren Partners, Talentmark, CTPartners, Wilton & Bain, Whitehead Mann and Strategi Search & Selection.
Nicola is also a co-founder of Management-Issues.com, a workplace issues site where she is managing editor. Based in France, her clients are mainly international.
www.management-issues.com
https://www.linkedin.com/in/nicola-hunt-918b601/?originalSubdomain=fr
Head of UKI Recruitment, EY
Current Head of UKI Recruitment at EY, responsible for a team of over 150, making 2,500 Student Hires, 5,000 Experienced Hires pa. Previous 7 years at SAP, Head of Employer Brand and Sourcing; 2 years at Autodesk, Head of EMEA TA & Global EB; 7 years at EA (Electronic Arts), as Head of EMEIA recruitment & Global Employer Brand
Head of Recruitment & RecOps Manager,Pride in London & Product Madness
Mark is experienced in leading Talent Acquisition functions and implementing effective strategies, Mark has delivered strategic talent partnering services to businesses whilst managing globally dispersed teams. https://www.linkedin.com/in/mark-jenkins-b317bb60/
CEO, Vercida
Morgan Lobb, CEO of VERCIDA, a leading diversity and inclusion tech firm, passionately drives inclusive workplaces. With a career dedicated to championing diversity, he empowers organizations to build innovative, diverse teams. Morgan shapes VERCIDA's mission for workplace inclusivity, making it an industry leader with cutting-edge tech solutions for diverse workforce development. A trusted advisor to MPs and government agencies, his private sector contributions have garnered numerous awards.
Global People & Culture Director , Guinness World Records
Stephanie Lunn is Guinness World Records' Global People & Culture Director. She is responsible for a wide variety of people-focussed programmes across the company's six international offices including Global Engagement programmes, learning & development, diversity and inclusion strategies and coaching initiatives. Prior to joining GWR in 2019, Stephanie held senior HR positions in a variety of media organisations including Yahoo!, Havas, Omnicom, and Moving Picture Company. Away from the office Stephanie supports the arts, loves travel and enjoys drinking coffee in bookstores
Founder, Diversity in Recruitment
I have a twenty-year+ career in the recruitment space behind me. I've developed strategic DE&I training programmes that build and evolve recruitment & hiring cultures, engage employees, attract underrepresented talent, improve the candidate experience and make businesses better workplaces. I founded Diversity in Recruitment to get DE&I on the agenda of the recruitment industry because I believe we can influence and lead real change. Through training and advice, I help recruiters get to grips with Diversity, Equity, and Inclusion, giving them the insight, tools, and confidence to attract diverse talent, recruit inclusively, and make their processes equitable and accessible.
Co-Founder & Managing Partner, Resilience Think Tank
Milena Maneva brings 15+ years of diverse experience in the financial services industry. With a strong background in resilience, risk management, governance, business continuity, and crisis management, Milena brings a unique and valuable perspective to helping organisation and individuals become resilient. She is passionate about helping organizations and individuals reach their full potential by fostering a culture of preparedness and resilience. She is currently on the Global Board of Directors for the BCI, and a Co-Founder and Managing Partner at the Resilience Think Tank. https://www.linkedin.com/in/milenamaneva www.resiliencethinktank.com
Director, Gambit Corporate Finance
Simon is a Director at Gambit Corporate Finance LLP, an independent corporate finance lead advisory firm providing services to private and public companies throughout the UK and internationally. Simon co-leads Gambit's Human Capital team and has deep relationships with investors, vendors and acquirers in the sector. He has significant M&A market experience and has advised on a significant number of transactions across acquisitions, disposals, management buy-outs, fundraisings and restructurings. His recent Human Capital M&A experience includes the Management Buy Out of Outsource UK and the sale of MPCT to Learning Curve Group
Founding Director, Max Intalent
A Talent and Talent Acquisition leader who focuses on transformation, talent management and acquisition strategy, employment brand, recruitment policy, capacity planning, and the framework for operational delivery. I have globally led recruitment transitions as part of HR transformation. I set up my consultancy in the summer of 2016 and joined Zalando SE as VP Talent Acquisition in October of that year. Most recently I completed my second period at Publicis Sapient as VP Talent Acquisition. Previously I have been the Head of Talent & Resourcing at the UK's Financial Conduct Authority and 7 years as Global Resourcing Director at Unilever where I was responsible for the design and delivery of a locally implemented global approach to resourcing policy, assessment and attraction.
CEO, Lightbulb Leadership Solutions
Fiona McKay is the multi-award winning CEO of Lightbulb Leadership Solutions and its group company The Menopause Maze. She is a sought after value creation strategist in hyper growth companies specialising in gender acceleration, human capital and ESG for funds, founders and leaders in mid-market recruitment portfolio companies. She is a women's health & HRT reform activist, woman of the year, keynote speaker of the year and top 250 global influencer in FemTech. www.lightbulbleaders.com www.themenopausemaze.com
Managing Director, Diversity Equity & Inclusion, AMS
Paul has worked in the Talent Acquisition industry for over 27 years in agency, search, in house and in RPO/Advisory. He has worked for AMS for the last 9 years, initially in a range of client facing roles. He is now the firm's Managing Director for Diversity Equity & Inclusion. At the beginning of 2022 he established the DEI COE in the Innovation function, with responsibility for AMS's internal DEI strategy as well as ensuring that AMS is delivering DEI centric solutions to its outsourcing clients.
Director, Brightwork
I am a strong believer in equality in all aspects of life with my role in the biggest recruitment agency in Scotland allowing me to drive initiatives to support those in our communities that need support to help them bridge the gaps that our society holds
CEO, SR2
Chris Sheard is the owner and CEO of SR2, Socially Responsible Recruitment an IT Recruitment agency with offices in Bristol, London and Austin. SR2 is an award winning agency, BCORP certified and recently ranked 34th in the Sunday Times 100 of the fastest growing private companies in the UK in 2023.
Director, Clearwater International
I am a Director at Clearwater International, the leading independent corporate finance advisory firm across Europe supporting businesses at varying stages of their growth journey. I am proud to head up our human capital coverage for the business and continue to build on our rich heritage in the human capital sector.
Founder & CEO, 55 Redefined
Recognising a gap in the market for a brand that answers the call of the 'bet-your-ass-I-can' over-50s, Lyndsey set up 55/Redefined to fly the flag for those who may be getting older but have no intention of slowing down.
55/Redefined celebrates 50+ life and challenges ageism through three group businesses:
Life/Redefined for consumers, Work/Redefined for corporates and & Jobs/Redefined which supports both.
A serial entrepreneur, Lyndsey has been recognised in the 'UK's Top 35 Businesswomen' by Management Today and The Sunday Times and is one of the 'UK's 50 Most Inspirational Female Entrepreneurs' and a regular Global speaker and commentator in the media.
Founder, Neurodiversity at Work
I'm a Neurodiversity advocate, founder of Neurodiversity at Work ltd, LinkedIn Top Voice, author of the award-winning book 'Neurodiversity at Work' and podcast host of 'Neurodiversity with Theo Smith'. https://www.linkedin.com/in/theosmithuk/