Showcasing the best recruitment talent, we are pleased to present our full list of winners of the 2022 Recruiter Investing in Talent Awards.
Recruiters Investing in Talent Awards Ceremony 2022 took place on
Tuesday 31 January 2023 at The Brewery.
You can see the photos from the event here.
You can now see the 2022 winners here:
WINNER : Gravitas Group
Why they won: Gravitas Recruitment is a global specialist recruitment company operating across the Technology, Public Sector, Insurance & Finance sectors. Founded in 2010, it has grown to seven offices in UK, Asia and recently in Europe. 
Gravitas uses a 'hybercube' methodology so consultants focus on contract or permanent roles in niche specialisms of these areas, e.g. Digital, Actuarial, Public Sector. 

Utilising a unique momentum methodology, consultants keep in constant touch with communities/candidates, whether they're currently contracting through the company/actively looking for work or building long-term relationships.

Once the contractor is on-site, consultants continue with regular communication to find out how the role is going, have ongoing access to support from the Contractor Care Team during placement, upholding duty of care without affecting IR35 status, dealing with questions, chasing timesheets to avoid payment issues/providing support/advice e.g. on IR35 or contracts and highlighting any concerns from the client which might have impact on contractors.

Supporting contractors between assignments is key too, with the momentum methodology not limited to on-site, but instead continuous. Gravitas also encourages contractors to be attendees or speakers at niche community events, providing them with a chance to boost their profile and grow their network.
Judges Comments: "Gravitas demonstrated an approach that was flexible and supportive during the pandemic and the off-payroll reforms.  In particular, they were concerned about the human impact, not solely led by the commercial impact on their business.  They took steps to provide mental health support, provided legal advice and even future assignment support by helping" contractors widen their own networks.
WINNER: Goodman Masson
Why they won: Located in London, Dusseldorf and New York with a team of 195, Goodman Masson are a finance, technology and recruitment process outsourcing recruitment business. As a progressive modern workplace, Goodman Masson works to ensure that Diversity, Inclusion and Respect lies at the centre of everything it does.
Blink is Goodman Masson's main internal communication, which is on everyone's PC or mobile. Every message or piece of comms posted on Blink falls into one of the four pillars, Work – having the right tools and development; Grow – opportunity for professional development; Reward – well and correctly rewarded; Connect – create an environment people want to be part of. Each pillar has its own logo and imagery which have played key roles in developing its internal employer brand. 

On a weekly basis 97% of Goodman Masson's workforce use Blink through either posting, chatting or liking. They use it like any other social media platform. Feed posting is the main page that the whole company can see. The other channels include: Group chats can be used for teams or divisions to communicate, Likes is a tool to acknowledge someone, especially at team events, placements and promotions, Hub is Goodman Masson's approach to agile working. All HR and useful documents, such as payslips, holidays and training can be accessed at the Hub.

Goodman Masson's quarterly newsletter, The Experience, reflects the fun employees have and highlights what has been happening in the business. Littered with pictures from the latest Quarterly Lunch and 'experience' events, it also provides direction and key messages from their senior staff, including the CEO.

The CEO's weekly note has now evolved to highlight others in the business; it is written by a different person every week and published on Blink. It updates the business on what their team has been up to, the company's month's revenue and profit projection, activity levels, good news stories from the previous week and what lies ahead in terms of The Experience® activities.
Judges Comments: "The business has utilised technology to fully engage with and keep staff informed.  Judges were impressed by the frequency and content of business communication and by the commitment to D&I clearly demonstrated within the business at all levels."
WINNER : Seven Resourcing
Why they won: Seven Resourcing specialises in temporary recruitment across five core sectors: healthcare, social care, life sciences, animal health and education. Its staff work from two offices in Ipswich and Colchester, as well as locations on Florida's Gold Coast and in Miami. 
Seven's new degree-apprenticeship programme, UGrad+, really impressed. It allows Seven to develop genuine recruitment experts with experience in every area of the industry, creating a 360° experience for its customers, as well offering great opportunities for people in recruitment.

To complete the full course and become a fully qualified recruitment consultant, employees must complete five stages over a five-year period:

Y1: Introducing Recruitment - ATHE Level 2 (Award)

Y2: Recruitment Resourcing - REC Level 2 (CertRR)

Y3: Recruitment Practice - REC Level 3 (CertRP)

Between 1 July 2021 and 1 Sept 2022, Seven hired 45 new starters across the company, with a staff turnover of 10%.

Since introducing its onboarding programmes, Seven's staff retention for new starters has increased by almost 20%, with many on track to bill £200k+ in gross profit. After introducing UGrad+ in January 2022, Seven has hit six record months out of nine.
Judges Comments : "Excellent collateral and supporting documentation – which is both comprehensive and easy to read/understand. External reviews of the business are exceptional. A diverse business which champions transparency and honesty."
WINNER : Gravitas Group
Why they won: Gravitas Recruitment is a global specialist recruitment company operating across the technology, public sector, insurance & finance sectors. Founded in 2010, it has grown to seven offices in the UK, Asia and recently in Europe. 
The company almost exclusively worked in-office pre-covid but has switched to a hybrid situation where support staff can work remotely, and sales staff can work remotely 1-2 days per week (post probation). Individuals may also be given the option to work remotely more frequently depending on their needs/circumstances.

Gravitas learnt during the Covid pandemic that people work differently remotely. It found it was

particularly difficult for trainees to progress when working fully remotely; engagement was also a lot harder. Even if an individual just meets up with peers socially it can be much better for connecting with others

. 

The company has invested heavily in suitable work-from-home setups, revamping management development programs modules, improving online training tools. Quarterly Business Reviews now provide measures to assess personal welfare.

Gravitas also ensures teams are connected and celebrate their achievements by including personal and team successes/KPIs. It provides regular, shorter contact and support, undertaking a mentoring/buddy programme and welcomes initiatives on diversity and inclusion from all. The company also celebrate significant events across all religions, cultures and awareness days.
Judges Comments :In a very competitive category, choosing a winner was made difficult by the range of high quality entries. This business invested heavily and actively encouraged employee involvement. Many initiatives such as life coaching were implemented with the appropriate infrastructure support put in place to maximise benefit for all.
Highly Commended : Seven Resourcing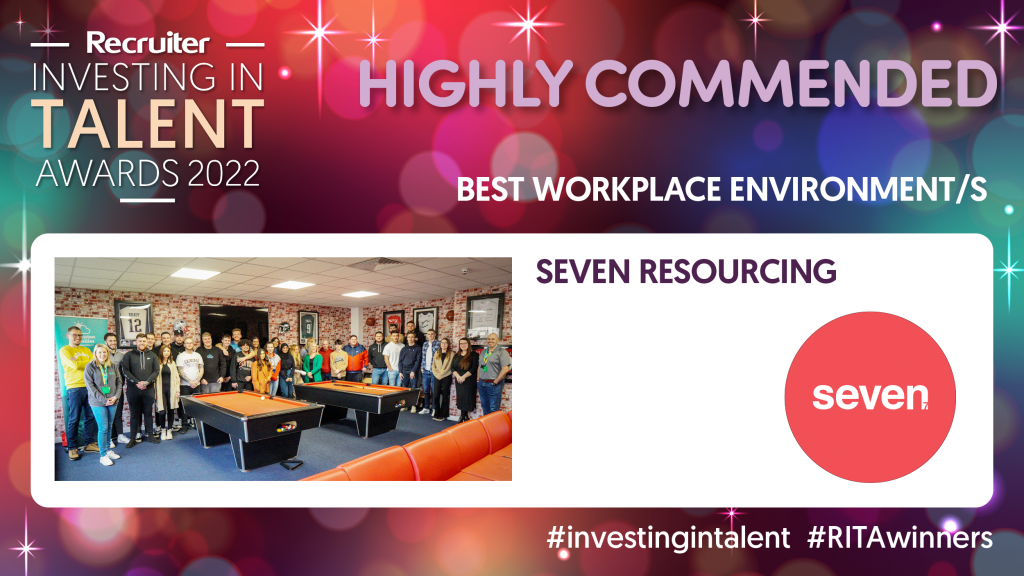 Judges Comments: "A substantial financial commitment aligned to multiple layers of support for employees made this an exceptionally strong entry in this category."
WINNER : Creative Access
Why they won: Creative Access is a not-for-profit (Community Interest Company) specialising in diverse recruitment, training and mentoring across the creative industries including publishing, theatre, music, film and beyond. They provide progressive career support and development for talent from communities under-represented in the creative industries in terms of ethnicity, disability and socio-economic background. They also provide extensive employer training programmes on diversity, inclusion and mental health to enable them to build more inclusive cultures.
As a diverse organisation, Creative Access holds itself to the same high standards it expects from its employer partners and strives to lead the way as a progressive employer. This includes following practices such as including a salary with all job ads, diverse shortlists, diverse interviewing panels and pipelines of diverse candidates.

Creative Access undertakes surveys to monitor progress of its own diversity, which is published in an annual impact report. They seek to reflect the city they are based in, and provide mentoring support for all staff – particularly those from under-represented communities and recognise poor mental health, seeking to put wellbeing at the heart of what they do.

Furthermore, it has policies such as flexible and hybrid working, enhanced paternity and shared parental leave to ensure every employee has a work schedule that works for their lifestyle.
Creative Access is in its 10th year, but in light of the past two years, its work has never been more necessary.
92% of interns go onto secure permanent work in the creative industries after their traineeships

90% of alumni say Creative Access has significantly affected their career progression

85% of employer partners have progressed their DEI goals due to collaboration with Creative Access.
Judges Comments : "Diversity, Equality and Inclusion is at the very core of Creative Access which exists to provide career support for talent from under-represented communities in the creative industries.  This is not just a tick-box exercise, inclusion underpins everything that they do!  The judges were impressed that Creative Access a wide breadth of DE&I strategies in place within their business and they really do practice what they preach. "
Winner : Seven Resourcing
Why they won: Seven Resourcing specializes in temporary recruitment across five core sectors: healthcare, social care, life sciences, animal health and education.
Seven encourages staff to leave their comfort zones and have new life experiences, with a system in place to help employees travel the globe and enjoy amazing events. These perks include all-expenses-paid, annual trips to the USA, including first-class travel and accommodation; silver, gold, and platinum experiences of progressive monetary value, such as Wembley Arena events, Michelin- starred meals, family holidays, the newest iPhone, and incremental commission and pay-rises.
Seven's people have mental health support, disability support and an unlimited budget to create their most effective working environment.

Seven invests approximately £3m per annum into their benefits programme, equating to 7.2% of turnover (£41.1m in 2021).

Return on investment from Seven's pay and benefits strategy is measured by growth. Between 1 October 2021 and 1 June 2022, Seven achieved the following:
18 gross profit and revenue records surpassed.

+40% employees hired.

+58% candidates placed.

+150 new clients, including the NHS, Pfizer, Boots, Samsung and Everton FC. 

+80,000 new candidates (up 60%), and 3,000 referrals (worth £3m in GP).
Judges Comments: "We were impressed by the clarity of their offer to new candidates and existing employees and found it to be stand out in its transparency. There is a great breadth of options, and a particularly generous approach to travel as well as longer term value adds that are often overlooked eg high quality home office furniture to create a safe and encouraging work environment . "
Highly Commended : La Fosse Associate
Judges Comments: 'For its significant share scheme. '
WINNER: Ciara Clarke: Senior Recruitment Consultant, Harrington Starr
Why they won: Harrington Starr looks for those who will raise the bar, and Ciara Clarke epitomises that aspiration. Joining during the pandemic, it was her persistence and drive to succeed that stood out most, and she made an instant impact, most notably with Harrington Starr's Belfast team. 
Being promoted to senior recruitment consultant in less than a year with the company, Ciara's keen aptitude for growth has made her an invaluable source of encouragement and support for many across the business. 

Raising the bar for expectations of new starters, Ciara billed over £400,000 in her first year, even though she had to learn the business from a remote location. While learning the fundamentals of recruitment virtually is difficult, Ciara connected with all corners of the business and was proactively created new learning possibilities.

Ciara has been instrumental in propelling the success of our DE&I initiative, The 19% List. This initiative delivers the CVs of female and non-binary technologists to major firms across the marketplace. She has brought on over 20 new clients to the initiative and sparked the creation of 10 new roles, just designed to the candidates proposed. 

Feedback from candidates also demonstrates how Ciara is redefining recruitment. Ciara has a "style of communication that any recruiter should strive to have", said one. Those Ciara works with are helped to recognise their value and worth.
Judges Comments: " We were impressed by Ciara's authenticity, vulnerability, and drive. Having left school at 16, she has worked tirelessly to better and further herself, and within three years has gone from "cleaning the toilets to principal consultant" where she's billed over £400k from a standing start. She recognizes that she has an opportunity to change people's lives, encouraging them to share their stories with her, and is an active participant on their journeys. Ciara's inquisitive and caring nature was standout, and we were inspired by her bravery and humility. "
Highly Commended :Oliver Knight: Senior Recruitment Consultant, Harrington Starr
Judges Comments: "Polished performance from a credible high performer. Will go far!"
WINNER: Leah Overend: Divisional Manager - Social Care, Baltimore Consulting 
Why they won: Leah Overend of Baltimore Consulting has overcome many challenges to get to where she is today. Diagnosed with Asperger's Syndrome as an adolescent, she has progressed through the ranks from grassroots to divisional manager of the entire social care team at Baltimore.
Promoted three times, she has billed over £1m for the business across more than 100 placements during her tenure. Everyone is inspired by her attitude, and she is spends time with her team to motivate them.

Baltimore Consulting adapted its working processes during the global pandemic and afterwards. For example, hybrid working was put into place; yet Leah, being neurodiverse, succeeded in taking hybrid working and the other adaptations in her stride.

Leah is invested in children's services and social care overall, and clients and candidates really appreciate her. She has built incredible relationships on trust and credibility; clients and candidates know that they are in safe hands with her and she will go above and beyond to deliver.
Judges Comments: "The judges were wowed by her!  Leah was the stand out applicant in an outstanding group.  She is a shining example of what can be achieved when differences are embraced and environments created where neurodivergence perspectives can thrive.  Leah genuinely cares about others, and acts as a role model by using her personal vulnerability to inspire others.  She is highly driven, passionate and her leadership style is selfless as she takes greatest pleasure from her team members' achievements rather than her own. "
Highly Commended :Roberto Orlandi: Branch Manager, MCG Healthcare
Judges Comments: "Roberto has aligned his own personal journey and resilience with his work as a recruiter, and dedication to making a difference.  He has been responsible for significant cost savings for the NHS at a time when public finances are over-stretched, an amazing example of added value which goes way beyond the recruitment industry. " 
WINNER: Saffa Ayub: Managing Director, Bramwith Consulting
Why they won: As the founder and managing director of Bramwith Consulting, Saffa Ayub has led the way for colleagues and the outside world. Saffa has taken the business from humble beginnings and turned it into a global procurement and supply chain recruitment business.
Saffa prioritises hiring fantastic people who share the same values and beliefs and in so doing has created an inclusive, diverse community of people with similar values, who respect and enjoy spending time with each other, both in and out of the office. 

Of the seven people hired between July 2021 and September 2022, 43% were ethnic minorities and 50% women. On 1st April 2022, Bramwith's global workforce was made up of 46% ethnic minorities and 50% women.

Saffa has contributed to many charities, including recently donating £9,000 to the Ukraine appeal. She also helps underprivileged teenagers get work experience in the Bramwith offices for two weeks at a time, attending their internal trainee training, work shadowing, helping them to rewrite their CVs and improve their online presence (especially LinkedIn).

Adapting to "the new normal", Saffa now offers all staff three days working from home and two days in the office as the standard, with the option to increase this to 100% office, or 100% home-based work where needed (this is very popular with working parents over the summer holidays). All staff also have company mobile phones, laptops and £250 budget to spend on their "home office".
Judges Comments: "Saffa has built a very successful, international business from scratch – and from a less than privileged background. She shows a positive influence on those working around her, always striving to be the best person she can be. She is enthusiastic and passionate about what she does and champions the delivery of high quality service to both clients and candidates. She has embraced diversity and advocates on behalf of working mothers. Quite simply, she exudes inspiration!"
Highly Commended: Amy Hambleton: Director, RedLaw
WINNER: Procurement Heads 
Why they won: Established in 2012, Procurement Heads specialises in senior procurement recruitment, operating in
permanent and interim markets across the UK & Europe. Consultants are specialists in one of five areas – financial & professional services, consumer, industrial, pharma and public sector. Their vision to position recruitment as a professional service informs its approach and methodology.
● Everyone in the business has a long-term incentive plan linked to reward. On the consultant and operations team, everyone has an annual high-performance bonus on achieving targets and above.
● Changing the focus of their internal recruitment strategy in 2021, they became an early signatory of the Change the Race Ratio and Race Fairness Commitment. They also formed a strategic partnership with Jason Roberts at Kaleida, a supplier diversity platform to help further embed the team's understanding of DE&I in recruitment.
● The pandemic was an epiphany for new ways of working at Procurement Heads. It always offered every employee an iPhone and laptop but did little to harness the power of digital technology. However, the company pivoted during the pandemic to virtual meetings, which had a significant impact on their carbon footprint. In the two years since, they have used Teams/Zoom as a first interview to save candidates time and money and cast its net further than London – now it operates across the UK and Europe. The business also has three remote workers, offers flexible/hybrid policies (improving work-life balance) and it has made two cost-of-living payments to those hit hardest in the team.
Judges Comments: "Judges were impressed with many aspects of this business and the full suite of incentives provided including the long term incentive plan. The onboarding, review and progress mtgs aligned to communication, culture and professional development have led to impressive retention levels. A deserved winner."
Highly Commended : InfoSec People
Judges Comments: "A strong entry evidencing multiple support levels for employees and a progressive D&I approach."
WINNER: Thryve Talent
Why they won: Thryve is an experienced technology recruitment consultancy, focused exclusively on delivering growth and results for its partners in the German technology market. The quality-obsessed approach enables their partners to achieve critical business objectives in a way that is both effective and agile. By putting Thryve's own people first, it helps client and candidate partners achieve spectacular results.
The senior management at Thryve pride themselves on their employee benefits and incentives, having regular conversations with their employees to discuss benefits and implementation. This has led to a four-day week, monthly wellness days, mobile phone, gym and private healthcare rewards as people progress in their career. Thryve also does lunch clubs, holidays, vouchers and having your birthday off.

In January 2022, the business introduced its Thryve LMS platform, a fully working learning management system, which required more than six months for information gathering and to build out. Within the platform, new starters are taught the basics of recruitment and managers can track their teams' progress. The platform event highlights focus areas that the new starter may need extra help with.

Thryve is committed to encouraging equality, diversity and inclusion among their workforce – eliminating all discrimination. It runs quarterly employee surveys as a wellbeing check alongside  a check of how the team are finding the four-day week, some statistics included in the most recent survey are:
97% believe their work/life balance has improved 

86% feel more productive

83% feel less stressed

How supportive is your manager out of 10 – 9.43 avg score 

How successful do you feel your first month's onboarding was – 9.20 avg score
Judges Comments: "We were impressed by the positive work/life balance, with a commitment to a 4 day week not only being highly regarded by their employees, but also driving productive changes and outcomes. This is a business that clearly values wellbeing and feedback. They certainly pack a punch for a business of their size, incredible to see so any positive themes running through their application. We were further impressed by their investment in their proprietary LMS offering, the variety and transparency of their benefits and reward package. It sounds like a happy place to work, where their purpose is clearly understood."
WINNER: SR2 Socially Responsible Recruitment
Why they won: SR2, Socially Responsible Recruitment, is a community-focused IT recruitment company operating within the IT and digital space. It approaches their business with a focus on social, corporate and environmental responsibility. In August 2021 SR2 became a certified B Corp. B CORP companies meet the highest standards of verified social and environmental performance, public transparency and legal accountability to balance profit and purpose.
Its culture and approach is modern and forward-thinking, with benefits and incentives including but not limited to unlimited holiday allowance, access to Octopus Wealth (high earners investment guidance), 4pm finish every Friday, monthly lunch clubs, two holiday incentives per year, quarterly staff engagement surveys, flexible/hybrid working environment and a lucrative commission scheme + additional bonus structure

SR2's incentives and team socials are always inclusive and varied to ultimately ensure that they help their team to become more rounded individuals. It also does the usual 'wine and dine' lunch clubs-type incentives, but also try and mix this up with wholesome activities like spa breaks/days, axe-throwing, climbing and volunteering.

From inception SR2 has committed to making two financial donations a year to under-represented charities equaling 5% of profits. In its first four years of business, it has donated over 350 hours of volunteering and over £203,000+ to some amazing local charities. They also contributed to relief for the ongoing crisis in Ukraine and recently donated £25,000 to the Disasters Emergency Committee that was matched via the BIG GIVE campaign to £50,000.

Diversity comes in many forms at SR2 – the male/female split is pretty much exactly 50/50. There is also have a mix of sexual orientation, religions, beliefs, not to mention backgrounds. That is by design, not chance. The company sought a culture that celebrated difference and pours a lot into D&I, growing more passionate and inclusive across all areas of the business.
Judges Comments: "SR2 are a forward thinking organization that has reframed what a recruiting culture should look like.  They focus on having a culture where anyone is welcome and can thrive as well as being socially responsible through working with the community and charity.  They are also one if the first recruiting organisations to become BCORP certified which is an incredible achievement! "
WINNER: Investigo
Why they won: Investigo is an ambitious organisation, finding extraordinary opportunities for candidates and sourcing talent for customers in a whole host of different industries. The company became a group in 2019 with Definia and Caraffi joining the executive and recruitment service offering. It has also transformed from a staffing solution business into a talent solutions business.
Investigo's benefits and incentives includes a 4.5-day work week with hybrid working, remote and office-based, with flexible start and finish times for all employees. There is also end-to-end support for parental leave (including adoption), including parental coaching, supported by six months of full base pay. The platinum scheme enables consultants to earn up to 40% of their margin NFI (interim) or NFI (permanent) on top of their usual commission, and a long-term incentive plan is available to directorship, partner and senior principal consultant level employees.

The company's onboarding programme focuses on four key stages – pre-hire, training (first seven days), transition (after one month, fostering independence for new hires) and ongoing development (2-6 months, continued growth and engagement). In addition to this, employees will have access to continuous leadership, 'drop in' development sessions created by their peers, one-to-one bi-monthly consultation and much more.

Investigo's approach to staff retention is committed to providing the best possible working environment for everyone. Its approach to diversity and inclusion practices includes changing mindsets and beliefs, sharing experiences and advice, and inclusion training for all. Other priorities are employee wellbeing and engagement, and recognising and rewarding significant contributions.

The company has introduced BIPPIT, a financial wellbeing service which matches each employee to their own qualified financial expert. Support offered includes help taking control of and tracking an individual's finances, goal setting, managing debt and ensuring they are financially protected.
Judges Comments: "Great staff retention and with a regime that allows people to work for 4.5 days and be paid for 5. Good employee engagement – the onboarding process appears to set the business up for success. The 'culture team' strives for inclusion – and there is excellent, detailed collateral and reference materials made available for new starters."
WINNER: Fintelligent Search
Why they won: Fintelligent Search was founded as J2 Consultancy Services T/A J2 Recruitment in 2015. It specialises in placing talent within financial services, senior finance and legal. They are based in Manchester city centre, have a headcount of 13 with plans to grow. In July 2022 they moved into a brand new 3,800 square foot office.
Covid hit the old business hard, with the loss of a key partner and many staff. The business had gone from £80-90k a month to zero, with four staff remaining and all the costs shouldered by the company as it was still in contracts with suppliers. The first step was to ensure survival and keep the four employees on the books. The second aim was to build resilience to ensure a future shock wouldn't hit so hard.

Since July 2021 it has created an entirely new organisation focused on very high-demand, hard-to-engage senior professionals; recruited 10 employees; launched a Senior Finance division and expanded the Legal division, agreeing terms with over 90% of its target clients in this space.

Fintelligent Search needed to revise its whole target market, brand and consultant profile, to attract, retain and develop exceptionally talented people. Working practices took on a more consultative approach, and a new logo/website created a rebrand. They also held a values discovery exercise where the team defined the new values of:

Partnerships create trust

Beyond the CV

We invest in your success

We don't cut corners

Furthermore, a huge part of the transformation was further developing the onboarding, L&D infrastructure, technology, leadership and review processes to ensure trainees consistently turn into top performers and then leaders. Without this, the company wouldn't be able to achieve their long-term growth strategy.
Judges Comments: "They demonstrated an impressive pivot in their approach to business in the face of Covid. Despite losing a business partner and key staff, they refocused and rebuilt – we were impressed by their resilience shown in the face of such significant challenges. They set and achieved against robust KPIs, successfully breaking company records. Also noteworthy is their investment in L&D (coming to the core in strong company and individual performance) as well as their infrastructure and environment. Not many people would have been bold and confident enough to rebuild in this way – impressive!"