Showcasing the best recruitment talent, we are pleased to present our full list of winners of the 2021 Recruiter Investing in Talent Awards.
Recruiters Investing in Talent Awards Ceremony 2021 took place on Tuesday 1 February 2022 at The Brewery.
You can see the photos from the event here.
You can now see the 2021 winners here:
WINNER: Morgan Mckinley
Why they won: Morgan Mckinley (MM) has been connecting talent with employers for 30 years, focusing on mid/senior private sector positions in a wide range of fields, from accounting, marketing and technology to governance and legal, working with a range of companies, from blue chip household names to SMEs and start-ups.
The aim of contract recruiters is to identify the right opportunity for each individual. MM's 'Career Ally' programme ensures quality and consistency; once placed, the 'contractor experience' (CX) team (with a range of specialist backgrounds) begins bespoke onboarding. CX is available to answer queries, and checks in with each contractor on a regular basis. To manage mobility, MM's contract talent team carefully maps project durations and talent pools to client pools.
The company's response to Covid was comprehensive. When the storm broke, the CX team spoke to every contractor within 10 days to establish what assistance was needed. Setting contractors up at home meant a significant increase in advice: HR provided H&S reviews and delivered hardware as required. When lockdowns were implemented, the CX role evolved from onboarding new contractors to focusing on care and counselling. Many clients considered cutting contractors, but MM worked to structure workable furloughs.
The company has adopted a consultative approach to the IR35 changes, holding a number of events and seminars/webinars involving IR35 experts, statement of work (SOW) consultancies and umbrella companies to offer advice to both clients and contractors.
UK-based MM has contractors based overseas, and provides support across local business hours. Workers are issued with a local telephone number for the CX Team and a group email address to ensure queries can be answered promptly.
Within the community the company is proud of its 'Morgan McKinley Million' corporate social responsibility programme and wider pro-bono work.
Judges' comments: "We were impressed with Morgan McKinley having a specific team that dealt with contractor care, in particular having a well-considered process in place. In relation to Covid, given the size and scale of the company, being able to implement and manage contractor care on a case-by-case basis was a great achievement."
WINNER: Greystone
Why they won: Greystone is a career strategist and recruitment agency providing services to the building services engineering sector: predominantly mechanical engineering, electrical engineering, public health and sustainability. All staff work remotely; the agency has no physical offices.
The company has a number of internal comms: a quarterly newsletter, The Journal, goes out via email, detailing company successes, learnings, goals and targets, and so on. An annual 'Yearbook' is put together at Christmas.
Regular weekly communications keep the sales team in touch with how the company is performing, and monthly communications celebrate successes and name the 'employee of the month', personal brand of the month and the winner of any running competitions. Virtual team lunch and coffee meetings are held on a weekly basis via MS Teams; there are weekly catch-ups with line managers also via MS Teams and monthly meetings in person. Some training is delivered by pre-recorded video via a private playlist on YouTube.
WhatsApp is the centre for everyday comms to keep the team engaged. This is where the usual informal 'office' banter takes place, the day-to-day chatter, celebrations, congratulations. More widely, the entire company is encouraged to have an active involvement in social media advocacy for the brand, activities and events.
During the crisis of 2020, the furlough scheme was utilised, so it was important that those members of staff continued to feel included. Regular virtual events with the entire team kept everyone together and boosted spirits as much as possible. Company presentations were also held virtually where everyone was updated on the business situation. Finally, Greystone's directors personally called every team member by telephone at least once a month to check in on their wellbeing. 
Judges' comments: "Greystone are a 100% remotely based business, so need to have good communications. The litmus test was during Covid, especially when people were furloughed. They continued to have regular virtual events with the entire team and the directors regularly called every team member to provide reassurance. The judges felt that their demonstrable ability to communicate effectively and keep their staff engaged through the pandemic was commendable."
WINNER: Gravitas Recruitment Group
Why they won: Gravitas is a specialist recruitment company with a focus on the technology/financial services sectors and niches within these, such as digital, commercial and public sector. The group holds two Princess Royal Training Awards from 2018 and 2020, the only recruitment company in the UK to do so.
Onboarding is an extensive process with detailed steps and is constantly being reviewed to make it as effective as possible. Gravitas firmly believes there is a link between full onboarding and staff retention and believes there is a direct link in improvement across a number of key performance metrics.
Onboarding begins before a recruit joins Gravitas, for example with invitations to check out social profiles and pre-induction tasks. On accepting an offer, connections via WhatsApp are made; new employees are invited to take part in team building events and also to join social occasions, such as team meals. They can attend weekly welfare meetings with team leaders and receive research so they can focus on their niche market before starting.
In the first month there are introduction sessions on shared documents/search tools/LinkedIn. There is induction training with dedicated learning & development teachers, and a combination of teaching with practical elements. Client/candidate call techniques are practised and personal presentations are prepared. Onboarding continues throughout the first year. Accountability is assumed by a number of different people, as the process involves numerous touch points.
During the Covid-19 pandemic, onboarding happened remotely using phone/video calls and online tools to ensure that contact levels typical with in-person onboarding were not lost. It was essential to make remote onboarding as effective as in person. To achieve this, among a number of adaptations, onboarding run time was changed to 10 half days instead of five full days to maximise engagement over video calls.
Judges' comments: "A number of great business were shortlisted in this category and Gravitas were a very worthy winner. They demonstrated a detailed onboarding programme that starts before a new consultant joins the business. Thorough and robust onboarding, particularly at trainee level, was adapted successfully over Covid."
WINNER: Seven Resourcing
Why they won: Global recruitment agency Seven Resourcing, a winner of four awards at the 2021 Recruiter Awards, operates in seven core sectors across both the public and private sectors, including providing temporary health and social care staff, a crucial role during the Covid pandemic.
Seven Resourcing's creation of a dynamic workplace environment has played a pivotal role in the company's success. The attention to detail in both the physical and non-physical spheres has paid dividends. Given the impact of the Covid pandemic, Seven made a substantial investment into its in-house mental health support systems, with £10k spent on professional training for all of its managers, led by the MIND charity.
During the Covid pandemic, Seven spent £2m on the workplace environment, including all extras, technology, working-from-home improvements and special training.
The office environment offers: well-thought out meeting spaces and staff rooms; socially distanced seating, desk air filters and new plants, a fridge full of free snacks in a personal kitchen that is cleaned daily, plus a free lunch every Friday.
The support environment offers continuous career progression and training and a wide range of awards, for example, for promotions, for employee of the month and for 'first deal'. There are monthly team building events, seasonal competitions and a weekend to celebrate annual sales awards. Staff are offered the latest iPhone at every release date, and time off for major events (such as the UEFA European Football Championships).
For the local community, Seven Resourcing supports local charity events, and during the pandemic created 'Hero Boxes' packed with gifts & PPE for local keyworkers.
Judges' comments: "The judges were hugely impressed by the efforts made by the shortlisted companies. Investment into both office and remote working environments was impressive, as was the enthusiasm and innovation behind driving engagement activities during the pandemic. Our winner illustrated significant investment in the environment, including wellbeing and mental health support systems, technology, and equipment. An admirable list of engagement activities clearly drove high motivation, energy and buzz."
WINNER: Signify Technology
Why they won: Signify Technology is a bespoke recruitment solutions agency that serves the Scala community. The company has a formal diversity, equity and inclusion (DEI) policy called 'Our Promise'.
All processes, services, opportunities and day-to-day activities are checked through the company's diversity lens to ensure they are accessible and equitable. Job descriptions and adverts are written using inclusive language and checked with Paiger, a platform that automatically audits job posts and social media for gender preference language.
The interview process centres around candidate values andSignify sets strict hiring targets; for every two males hired, one female is hired. Marginalised communities are actively offered opportunities, in many cases candidates from lower socio-economic backgrounds are supported through the interview process. Every potential candidate to the company has the opportunity to meet with several members of the team to gain a sense of its inclusion culture.
To help diversify their clients' teams, CVs are anonymised. Salary expectations on candidate profiles are removed, allowing the client to make decisions purely on capability. Signify advises clients on creating inclusive and equitable cultures.
The Signify career progression scheme was implemented as a progressive initiative that focuses on marginalised communities by offering different learning opportunities. The company believes that work ethic and attitude outweigh education, and this is reflected in the new starter programme. For two weeks new starters shadow all levels of consultants across both permanent and contract divisions, giving an all-round view of the company and business procedures.
Judges' comments: "The value statements 'Be Bold: Move fast and don't be afraid to stand out' and 'Let your personality show' reflect how important authenticity is to this agency. From ensuring advertising language is amended to commitments within their own hiring and knowing where to go to reach out to candidates from diverse backgrounds, the depth of thought, care and consideration shown by this agency to D&I has set the benchmark all of us in the industry should meet." 
WINNER: Seven Resourcing
Why they won: Global recruitment agency Seven Resourcing, a winner of multiple awards (including four at the 2021 Recruiter Awards), operates in seven core sectors across both the public and private sectors, including providing temporary health and social care staff, a crucial role during the Covid pandemic.
As standard: staff receive the following: professional, in-house mental health support, monthly all-expenses paid nights out and team events, progressive salary increases every November; a fridge stocked with free snacks in a personal kitchen that is cleaned daily, plus a free lunch every Friday. Industry-leading technology, including four UHD screens, wireless Logitech peripherals and top-of-the-range Apple MacBook Pros are also available.
For performance: annual, all-expenses-paid trips to the US are on offer, as are fully paid holidays for staff and their families. There are expenses cards, ranging from £250-£1,250 per month to spend as they wish; £1,000 Selfridges vouchers; iPads and a company car allowance; the newest iPhone every release date; trophies at the annual all-inclusive sales awards, including a weekend of activities in London.
Length of service rewards: for every year worked at Seven, the staff member receives a quarterly gift box.
Starting a business can pose a huge risk for aspirational recruiters. However, Seven One, the company's employee progression scheme, is an innovative benefit that gives talented employees the opportunity of running their own agency, anywhere in the world, without logistical and financial barriers. With Seven One the consultant can simply move into an office, build a team and start recruiting. Between 1 July 2020 and 1 October 2021, the Seven One ventures contributed £1.4m in gross profit while navigating a global pandemic – an impressive achievement for three relatively new companies.
Judges' comments: "All nominees engaged in a creative approach to their pay and benefits offering. The winner showed a generous shareholding structure, rewarding team members with a shareholding after just a year. A GP scheme was introduced during the pandemic to get quick access to health professionals. The result of their structure was an increase in retention rate from 55% to 82%."
WINNER: Select Offshore
Why they won: At a time of significant global disruption caused by the pandemic, the leadership team and staff of Select Offshore demonstrated what is best about our industry by their selfless and community-focused actions.
The judging panel recognised the individual and collective bravery shown by Select Offshore, the organisation's swift pivoting to enable their ambitious goals to be achieved and the sacrifices made in terms of deployment of available headcount and resources from what was, at the time, a very small business. 
The judges said: "You are an example to all of us. Well done."
Highly commended
Seven Resourcing
WINNER: Kayley Savage, senior consultant, Oakwell Hampton
Why they won: Kayley Savage inspired a glowing testimonial from the Oakwell Hampton consultancy. Indeed, the word 'inspirational' was used a great deal when describing Kayley's achievements.
Kayley began with the agency in March 2020, a week before the first lockdown was imposed. All her training was online, with no colleagues to learn from in person and a market in disarray. She was constantly on Teams, asking for advice, offering herself for a chat if anyone else was feeling the pressure of lockdown, setting up groups where the employees would get together to chat – all while being the newest member of the team.
She immersed herself in her market and opened up several big relationships, winning important clients who have responded with excellent testimonials. Her abilities have led to a rapid climb from junior consultant to consultant and then to a senior role, and is close to meeting the next milestone of principal or sales manager. While Kayley is an advocate of social media, she believes that the best way to build up a professional reputation is through networking and getting results.
Kayley is very much involved in all the company's CSR functions, from toy collections at Christmas to organising charity socials and events. She did not go to university, so she knows that different backgrounds can lead to successful recruitment careers, and has been keen to talk at various education facilities – the company has seen a much more diverse selection of applicants as a result.
Judges' comments: "The quality of this category inspired the judges to be assured of the future leaders of our industry! Our winner was particularly inspiring – having clearly made significant impact in their business in the short time she has been in the sector. This was illustrated by huge tenacity and resilience in the face of the pandemic; being a real advocate of creating a coaching culture; inspiring others through a positive mindset; driving change in the service offering to clients – all rewarded by two very well deserved promotions during a 12-month period."
WINNER: Louise Foster, head of talent and development, Baltimore Consulting
Why they won: Louise Foster is an inspiring person to be around. A full-time working mother, she exudes positivity. Starting at the grassroots in IT recruitment, she learned to become resilient early in her professional journey, rapidly progressing up the ranks, managing her own team and billing more than £1m. She is proof that hard work and consistency really can bring success.
With an in-depth background in training and with years of experience, Louise joined Baltimore Consulting two years ago. Coaching and developing people is Louise's forte. She employs an innovative approach to training, taking a TED talk, book, podcast, conversation or even a game show and turning this into a new learning experience. She is reminiscent of the fondly remembered school teacher who made learning fun. For her, it is not just about recruitment: Louise has a genuine interest in the psychology of people. 

Louise has always been a beacon of positivity within the business and is an integral member of the board and senior leadership team. Her optimism and her sincerity are much appreciated. 

Her attitude throughout the Covid pandemic has helped ensure that it was business as usual as far as possible. Following the government's lockdown announcement, Louise was tasked with ensuring that everyone's home environments were fit for purpose and home working. She increased support from a mental health first aider perspective, everything from scheduling breaks and hosting virtual exercise classes to holding monthly business meetings to ensure that all employees were kept in the loop. 
Judges' comments: "Louise had a very warm and positive attitude, and came across as someone who was genuinely inspiring. She was willing to engage with any part of the business to make it work, and enjoyed sharing her knowledge to help others. We were impressed by the fact that she focused on the whole picture, including the mental health and satisfaction of her team. She adapts her approach to ensure she gets the best from people. We all felt she was the personification of what an inspiring individual should be."
WINNER: Nicholas Hopkins, Associate Director, VIQU
Why they won: Nicholas was asked to join VIQU in 2014 because he had worked with some members of the company's leadership team and they were impressed with his hard-working and resilient attitude.
Nicholas helps his team learn and gives them confidence and a voice. He instills self-belief by offering team members opportunities to work with some of his biggest accounts and clients. With a transparent and learning-centric approach, he has maintained his 100% team retention rate.
When the pandemic struck, Nicholas was responsible for organising and implementing the company's remote strategy. Nicholas did not make assumptions about people's mental wellbeing during the lockdowns, but called people individually to check how they were doing. During the height of the pandemic, Nicholas not only attained jobs from existing clients, but managed to generate new business relationships.
Nicholas also took the company's NHS IT Volunteer Initiative under his wing, saving the NHS £1.95m. This aimed to bring out-of-work IT professionals together with NHS IT departments during the pandemic, giving the team a focus when the market was quiet. Keeping productivity high, the initiative was responsible for placing more than 260 IT volunteers, nearly half of whom were later offered paid positions.
Another responsibility of Nicholas is his management of VIQU's development team. He oversees a relocation process for every developer (mostly from Southeast Asia who have joined through its Tier 2 Workers Programme) from picking them up at the airport to helping them find a property and resolve issues around schools.
Judges' comments: "A worthy winner. The IT volunteer initiative was inspired and not only supported the NHS through a challenging period but also gave Nicholas's team a sense of purpose and unity as they adapted to the changing market. In addition, he anticipated that as things returned to normal that there would inevitably be a huge skills shortage in the IT sector. He oversaw a sponsorship initiative within his own business which he then rolled out to clients to support their post-pandemic hiring plans."
Highly Commended
Duane Cormell: Director, Realm Recruit
WINNER:  Ryan Adams, CEO/founder, Signify Technology
Why they won: Ryan Adams is inspirational, not because of the things he has achieved, but rather how he enables the people around him to achieve. He has the ability to bring out the best in people and instead of channelling their success into his own personal ambitions for the business, he works with individuals to build a better life for themselves. 
The pandemic was personally difficult for Ryan, who lost his mother to Covid-19, and was concerned about how a spell of compassionate leave might affect the business. Instead of taking time away, he invested further in his team, organising leadership training for senior staff. During the lockdowns, Signify Technology was quickly modified for remote working. No employee was made redundant or put on furlough; Ryan concentrated his efforts into training, development and additional hiring.
When Ryan founded Signify Technology, he knew that the recruitment industry needed to diversify. He believes that the diversity of his employees is one of the most important aspects in company growth and this is reflected in the company demographic.
Judges' comments:"Ryan Adams is a remarkable leader. In a very short time, and through extremely challenging global conditions, he has clearly exemplified the qualities that the judging panel believe are both inspirational and aspirational. We also credit the remarkable resilience he has shown through a period of personal tragedy. His leadership style, commitment to excellence and ambition make him a formidable commercial entity. More importantly, his position as a role model for diversity, inclusivity and progression make him an exemplary human being."
Highly Commended
Amy Hambleton: Director, RedLaw
Raph Mokades: managing director, Rare Recruitment
WINNERS: Camino Partners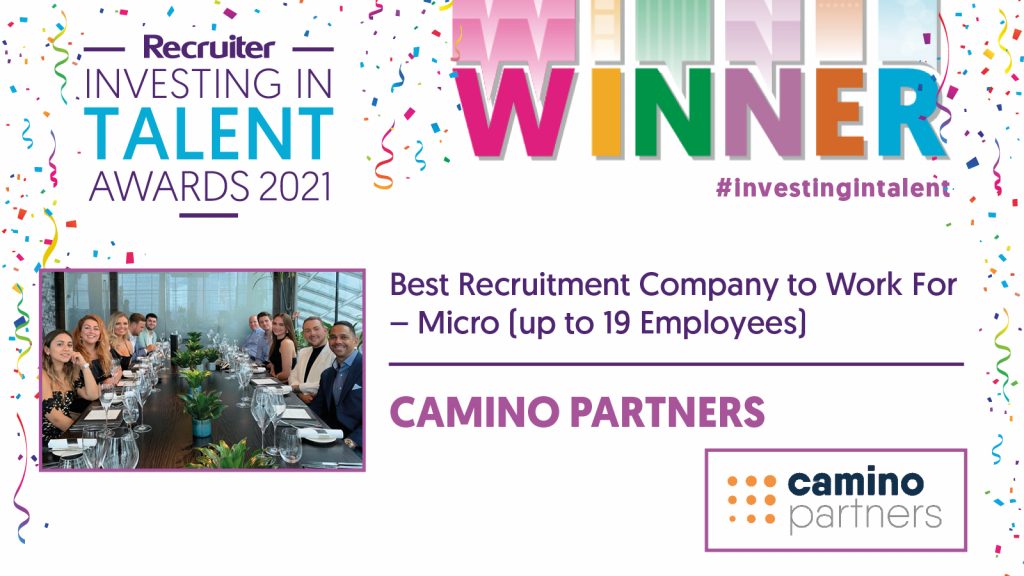 Why they won: Established in 2011, Camino Partners launched two brands during 2020: Camino Search, which focuses on placing financial and strategic roles into high-growth tech and tech-enabled businesses; and Cavana Search, which specialises in placing recruiters and sales professionals into US-based recruitment businesses on a retained basis.
The agency's benefits package embraces employees' mental as well as their physical wellbeing. There is a cashback healthcare scheme for dental, optical and physical treatments, and staff have access to benefits such as a doctor line phone service, private scans, gym membership and a cycle-to-work scheme. A package to improve financial literacy includes debt counselling and budgeting assistance, life assurance and discount platforms. For mental wellbeing, staff have access to a counselling helpline and CBT, and access to an annual £250 'knowledge fund' to spend on personal skill development, such as learning a language.
Internal staff mobility is facilitated through a clearly defined career pathway and is continually supported through reviews and mentorship. Recognition is provided to employees on both a regular and ad hoc basis, through such occasions as end-of-the-week company catch-ups. Achievements such as external testimonials are promoted through internal communications.
Camino Partners uses a tool called 'engagement multiplier' to conduct anonymous engagement surveys twice a year, as well as ad hoc surveys. This was a particularly valuable tool during the Covid pandemic as it helped employees have a sense of being actively involved in the company's decision making and have a platform to raise any concerns or questions. A number of staff members who were furloughed during the pandemic have been successfully re-integrated; of those who were made redundant, three have been rehired. Since Covid, the agency has overhauled its hiring strategy to include more diverse backgrounds.
Judges' comments: "The company demonstrated an honest and open approach to the pressures created on the firm due to the pandemic. The benefits packages are well considered and cover a wide range of  wellbeing packages. The monthly incentives were varied and the engagement surveys demonstrate year-on-year improvement."
WINNER: Keystream Group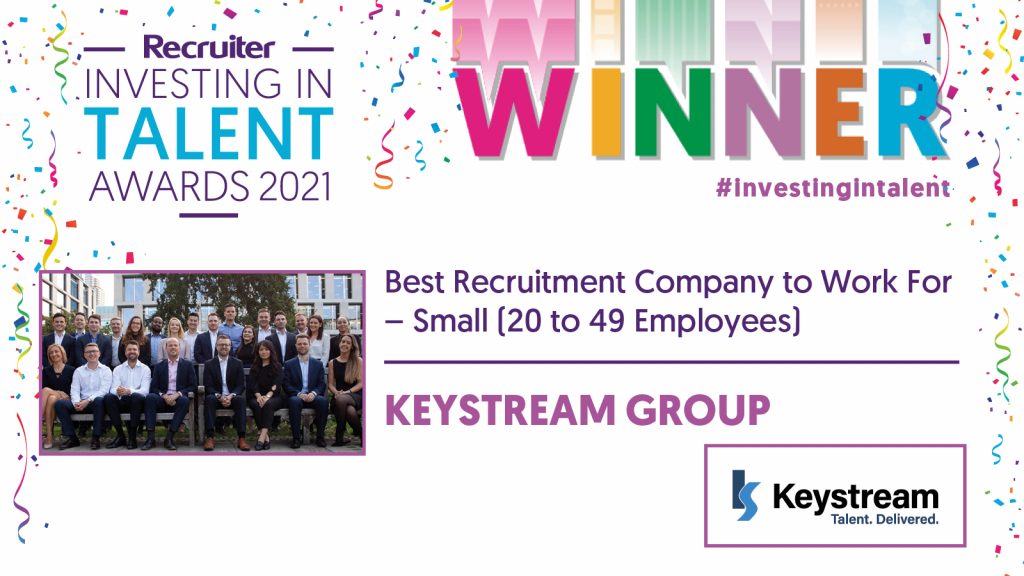 Why they won: Founded in 2011, Keystream is an inclusive multi-sector recruitment, managed services and IT project delivery consultancy. It is one of the top framework suppliers of tech talent to the NHS, and has diversified into new sectors and services, including life sciences, charity/non-profit, private healthcare and government.
Onboarding is tailored to each individual, including systems, GDPR and diversity training. Following this, a three-month modular, blended learning plan is followed, combining 'at-desk' and formal courses. All starters participate in 'job swap' sessions, spending time in different departments to foster understanding and appreciation of other roles. To drive equality, diversity & inclusion (EDI) through the business, 'EDI champion' roles have been created. 

The company has a successful record of promoting from within – its apprenticeship programme alone has resulted in five permanent hires, with two reaching manager level. All staff have personal development plans articulating short- and longer-term ambitions, with a clear road map to achieving them. The company finances professional qualifications.

Benefits are continually under review. There is a wide variety of annual and monthly company social events and team activities. The healthcare benefit includes mental health provision, and cycle-to-work and travel loans to encourage sustainable travel.

During the pandemic, the company received urgent staffing requests for projects related to Covid-19. These required fast turnaround sourcing and onboarding contractors in high volumes, including for NHS on-site assignments.
Judges' comments: "It was a very difficult decision. The judges were impressed by firms that participated in the externally accredited system IIP or NPS, and scored above the industry averages, with either gold or platinum levels. Keystream were very supportive of their staff during Covid, with proactive measures in place to support their wellbeing, which included relaxing targets and putting non-urgent projects on hold. Staff who were parents could also reduce their hours to support home-schooling without loss of pay. Overall, their benefits package is impressive."
Highly Commended
xPertise
WINNER: Seven Resourcing
Why they won: Global recruitment agency Seven Resourcing operates in seven core sectors across both the public and private sectors, including providing temporary health and social care staff, a crucial role during the Covid pandemic.
Seven Resourcing's creation of a dynamic workplace environment has played a pivotal role in the company's success, with a creative office environment. Seven also invests a great deal into employee recognition.
Staff wellbeing is paramount. The company employs a specialist in employee development and mental wellbeing; the charity MIND provides mental health training for managers.
During the pandemic, the company worked hard to create a safe and supportive working environment. They created 'Hero Boxes' containing gifts and PPE for local key workers. Because of the circumstances facing their clients, the company agreed to become available 24/7. Seven offered free CV and interview support for those affected by the pandemic: 700 people used these services and/or applied for the Covid re-employment roles. Instead of furloughing staff, employees were retrained; by keeping staff motivated and supported, instead of redundancies, Seven has achieved back-to-back record years and is on track to double in size by 2023. However, during this difficult time 158 new clients joined the agency, including Pfizer, NHS Wales and GlaxoSmithKline.
Seven's recruitment is based on emotional intelligence, problem solving and the ability to provide excellent customer service. Diversity and inclusion play an important role in the company ethos: there is an equal number of male and female employees, and staff with disabilities and from ethnic minorities.
Judges' comments: "Seven Resourcing demonstrated that serious steps were taken during the pandemic to ensure staff welfare, as well as a caring and flexible approach to promoting a healthy work/life balance. This shines through in an almost perfect score in the employee survey. They have a very good recognition scheme and clear career path so consultants know what they need to do to earn promotion. A standout moment was a 24/7 shift pattern during the pandemic to support clients – truly outstanding work."
WINNER: Investigo
Why they won: Investigo is an award-winning recruitment firm, with headquarters in London and an expanding US offering centred in New York and Philadelphia. Investigo became a group in 2019, with Definia and Caraffi joining its Executive and Recruitment brands.
The firm's benefits and incentives have been designed to support and develop as much as reward their employees. This includes flexible working, including a system of core hours and the opportunity to work from home; a full staff development programme; a 'platinum' scheme for high-earning consultants and a long-term incentive plan. There is a 'Kudos' scheme that allows employees to nominate a colleague or team for special recognition, quarterly lunch clubs, monthly newsletters, celebrations and awards. The company prides itself on its focus on diversity, equality and inclusion.
The company's comprehensive onboarding plan evolves into a continuing growth and engagement process. Investigo's training is targeted towards personal growth and internal staff mobility.
During the pandemic, the company quickly moved to provide reassurance, creating a remote working environment that supported staff's needs. Guidelines on leading a team remotely and on home schooling resources were provided, and employees were encouraged to set boundaries around working hours, and to take lunch breaks and holidays. Regular communications helped employees keep in touch, and initiatives such as fitness classes and advice on nutrition, sleep, stress management and goal setting were provided.
Investigo gave full support to the 14 staff members who faced redundancy, providing a full list of vacancies from across the business and supported affected employees with their applications. Staff were deployed wherever possible and offered bespoke training.
Judges' comments: "The judges were really impressed with the submissions of our shortlisted companies.  They all showcased excellence across employee recognition; development; mobility and benefits – along with a robust approach to response and planning during the Covid crisis. While this was a tough decision, our winner really illustrated their market-leading benefits structure; an innovative recognition scheme that rewards across all areas and all levels – and they clearly provided a communicative, well-planned and healthy environment during the pandemic."