Showcasing the best recruitment talent, we are pleased to present our full list of winners of the 2020 Recruiter Investing in Talent Awards.
Due to the current COVID-19 venue restrictions we hosted a Virtual Awards Ceremony for the Recruiter Investing in Talent Awards 2020, which took place at 14.30 on Friday 11 December.
You can now watch the awards on demand below:
Winner: MCS Group
Why they won:  Contractors working through MCS Group say they feel like "a valued colleague", and the Northern Ireland specialist recruiter's multi-layered, proactively supportive approach to this workforce demonstrates a culture of superior care.
Their 114 contractors are a mix of Contractor (PSC) and Temporary Contractor (PAYE), and work on projects and assignments within a variety of private, public and non-profit organisations. MCS specialises in IT & Digital, Technical & Engineering, Human Resources, Legal and Sales & Marketing appointments.
Achievements include:
Everyone is contacted within 24 hours of applying/enquiring with MCS.
60% of their contractors are reassigned within two weeks of a project or assignment's end.
The company's Contractor Communication Strategy ensured contractor needs and concerns were identified early on from the outset of the pandemic, from health, safety and wellbeing to potential changes in project-end timescales.
A secure video platform allowed contractors to contact the company quickly and easily whilst the office was closed. The platform also enabled virtual meetings with talks by industry experts and opportunities to network with peers in a safe, online environment.
A 'no stone unturned' approach to onboarding contractors, which helps avoid delays in project start, improves contractor experience and contributes to project success. "We ensure that by project start, nothing feels completely new," a company statement said.
100% of contractors receive on-time payments each week.
Judges' comments:
"Impressive."
"The testimonials proved the service levels live and breathe within the business; we particularly loved the comment from a candidate that 'They make me feel like a valued colleague'."
WINNER: Investigo
Why they won: Headquartered in London, with three offices in the South of England and one in New York, specialist recruitment firm Investigo proudly announces on its website that its unique selling point is its people. Employing more than 200 staff, the firm has consistently grown its offering, now providing professional recruitment services across 12 specialisms.
The judges were particularly impressed by Investigo being able to demonstrate its commitment to a people-centred culture through effective employee communications through three different teams: senior management, People and Culture Team (PACT) and a marketing team.
Communication is in the form of weekly newsletters and financial reports, using social media to share activities and events, and using the company intranet as a news hub, as well as central hub for hosting resources.
The monthly townhall video conferences, led by the CEO Nick Baxter, have replaced the physical celebrations during the Covid-19 pandemic. They advise staff of Investigo's response to the pandemic, outlining its plans for the future and recognising performance. In addition, video conferencing is used as part of the virtual onboarding, delivering remote induction, orientation and new hire development sessions. Personal development and wellbeing sessions, such as the Lunch and Learn series, fitness classes and awareness days are also run using video conferencing.
Investigo was able to track the effectiveness and impact of its different channels. The recruiter was able to go that step further by being able to integrate concern for diversity & inclusion by making virtuoso use of app technology to demonstrate effective and efficient targeted messages to meet the needs of different sectors of its workforce. The judges said Investigo is an organisation that does not opt for the 'one-size-fits all' approach.
Judges' comments: "An organisation that takes its internal employee communications as seriously as its external client communications is a sure winner!"
WINNER: CMA Recruitment Group
Why they won: It's evident that CMA Recruitment Group is a fantastic place to work – over 45% of their workforce have been with the company for over 10 years.
And the South-based company adapted quickly earlier this year when the coronavirus pandemic struck. The top priority: the team's welfare. A most welcome consideration for the staff of 47 was the early communication from the company about job security – "We would not be looking to furlough or make redundancies with any of the team," CMA said.  When all the team moved to remote working, the company supported them with risk assessments, mental wellbeing and platform support. Since many of the team were looking after small children or managing home schooling, CMA introduced flexible working hours so that the team could still fulfil their roles whilst managing family commitments without taking unpaid leave or furlough.
Other measures included:
Daily team Zoom calls with one-on-one follow-ups with a manager if needed
Group Zoom Friday seminars incorporating team recognition, quizzes, workshops, employee mental health and company performance updates.
A buddy system to connect newer employees with someone outside of their office or management team, helping them to have a wider support network.
Realignment of the recognition and rewards to reflect current market conditions.
Introduced a 'support the local community' scheme with CMA matching personal contributions at the office level.
And there were some happy results. "We were surprised and impressed by the high standard of performance in a remote working environment," the company said.
Further, CMA said, there were lessons learnt: "We have been reminded of the need to offer a service without any expectation of something in return."
CMA specialises in Accountancy & Finance, Executive, HR and Financial Services recruitment.
Judges' Comments: "Communication was top of the agenda for this team and alignment to values was evident. Very detailed information about how they are supporting their colleagues and reviewing different work environments to see if they are fit for purpose."
WINNER: Bramwith Consulting
Why they won: Bramwith Consulting is a specialist procurement & supply chain recruitment firm hiring into both private and public businesses across all industries globally. It has 30 employees working across three offices, with its headquarters in London and an office in New York and Amsterdam.
Bramwith's Diversity & Inclusion Champion is director Ben Riley, who is also in charge of all internal hiring. He reviews all CVs submitted and conducts all first round interviews. Working with diversity charities MSDUK, WeConnect International and Business in the Community, Riley is best placed to understand and avoid unconscious bias in Bramwith's hiring and development of staff, including using data to safeguard against it.
The judges appreciated the openness and initiative that Bramwith Consulting is showing in acknowledging there are positive opportunities to level the playing field, in relation to D&I in the industry.
Bramwith Consulting was founded by a BAME woman, who is now the UK director and overall managing director; the US director is a BAME man who originally joined as a trainee recruiter; and the global director is a white man – powerful senior role models in the business that reflect the UK/local population.
Bramwith was able to show simple, practical examples of interventions it implemented, starting with diversity monitoring of protected characteristics to analyse its social media presence through different lenses to explore flexible and homeworking patterns pre-Covid-19, promoting control over holiday bookings and the impact of dress codes to ensure inclusion. Monitoring is an important step in committing to being accountable for measurable results.
Bramwith demonstrated core strategic purpose by ensuring from the outset it located itself in high immigration and diverse communities to effect socio-economic advancement of BAME populations by proactively spotting untapped BAME talent by removing socially constructed barriers to entry.
Judges' comments: "Bramwith Consulting demonstrated the importance of promoting not only a diverse candidate base to clients but also reflecting this within its own team and leadership."
WINNER: LEAP29
Why they won: This 20-year-old global recruitment business takes a holistic approach to its reward & benefit scheme, based on: talent growth, career progression, the company's culture of success, health and wellbeing, work-life balance, social incentives and, possibly its stand-out offering, a companywide share scheme.
The company explains: "Everyone in the business was made into shareholders, creating a partnership business where we are all business owners working towards one goal." At the end of Leap29's last financial year, the company paid out a total of £833k share payments to 30 employees." A new share scheme was due for launch later in 2020.
"At Leap29, we feel there is no better way to unify our team and recognise our employees for our achievements," the company says.
Other rewards & benefits include £400 and £600 quarterly and £800 annual vouchers where the criteria is matched to consultants' different levels of experience, bi-monthly team incentives, annual company awards , a competitive uncapped commission structure in which consultants are able to earn up to 30% of the fees they bill, to name just a few.
And better yet, employees are eligible for almost all of the company benefits from Day 1 of employment, with additional benefits being awarded following a successful probation period. Increased annual leave is awarded after each full year of employment.
Leap29 offers international recruitment solutions across specialist Engineering and Professional Services.
Judges' Comments: "Fantastic demonstration of a business that rewards beyond monetary and lifestyle benefits. The judges were particularly impressed with the…strands of benefits…The approach was refreshing and inclusive of all employees. The ownership model is particularly impressive and unique."
WINNER: Pertemps
Why they won: One of the largest recruitment agencies in the UK, Pertemps has been recruiting for nearly 60 years, providing staffing solutions across numerous sectors and industries, on both a flexible and permanent basis. 
With more than 200 branches across 70 regions, employing more than 800 staff, the judges were impressed with the swift review and strategic approach of the winner.
Pertemps senior management team has overall responsibility for business continuity and resilience (BCR). The BC plan ensured that management system processes and tools were in place to support Pertemps' operations and response during the coronavirus pandemic.
Pertemps has developed a robust communication programme aimed at employees, internal and external stakeholders and clients. During the pandemic, the business activated its Crisis Communications Strategy, involving a communications steering group, which meets and communicates regularly with the entire workforce, using direct and two-way marketing channels.
Due to the pandemic, Pertemps adapted its infrastructure to adopt cloud technologies. The Pertemps Network Group traditionally was an office-based workforce during the daily 9-5, so the judges were impressed that remote access enabled work to continue outside of normal office hours as the company supported businesses 24/7.
Pivotal to BCR during lockdown was fast-tracking the roll-out of its digital candidate registration system to ensure operations became truly mobile. This meant Pertemps could continue to place workers into vital roles within the NHS, schools and children's services, and food and pharmaceuticals packing and distribution.
Judges' comments: "Their focus on the candidate experience and the board's ownership of processes and procedures internally and externally was impressive given the complexity and scale of the business."
WINNER: Goodman Masson
Why they won: Goodman Masson is a finance, technology and RPO recruitment business. Headquartered in London, with offices in Dusseldorf and New York, the recruiter employees a team of around 160 staff.
From helping housing associations with their talent attraction, Goodman Masson has built up a deep understanding and connection with the social housing sector. During the pandemic the firm launched two programmes to support residents living in social housing.
Goodman Masson's team of 34 consultants acted as volunteers and went that bit further to show the judges how to put the heart back into our communities and work as a team. Their befriending programme 'We are Free to Chat' supported 2,600 residents address the issue of loneliness through the pandemic and helped them feel less isolated.
Its Careers Start@Home programme helped support over 300 residents with preparing their Linkedin profiles and CV. Goodman Masson supplemented this one-to-one support with providing five online programmes using video and webpage technology designed to support residents with their employability skills post furlough.
The judges said a key criterion for the Covid-19 Champion was the ability to demonstrate selflessness, putting others less able to advocate for themselves feel just that little bit more empowered and cared for – making the invisible and often forgotten feel valued.
Zoe Green, in particular, really impressed the judges for leading an initiative that snowballed to a whole new programme level. As the programme grew so did she, leaving her feeling both humbled and energised by the experience. Her bravery in stepping forward to lead a new initiative demonstrated she has the makings of a truly aspiring and inspirational young leader, said the judges.
Judges' comments: "Well done the wonderful team at Goodman Masson for creating legacy to be proud of!"
WINNER: Nathan Davis, Signify Technology
Why he won: With zero recruitment experience, Nathan completed three placements totalling £62k in his first month at Signify. In his first year, he billed £297,600. And because he went above and beyond during work and out-of-office hours to give support when the Covid-19 pandemic struck, Nathan was the supporting factor in over 40% of company revenue in April 2020, the first full month of lockdown.
He gained his first promotion within six months of joining Signify, and has brought on nine new clients in his first billing year, generating £241,604 in revenue.
Eager and enthusiastic, Nathan is characterised by his colleagues as "the definition of a team player" which means "he involves everyone whether it's a charity event, a team meeting or just a conversation during lunch". Taking the praise further, colleagues say that he reflects the reality of "a new generation of recruiters where collaboration and teamwork are the best method".
His five-star work habits are contagious, too. He's first in the office, checking all platforms and chasing leads before anyone else. This led to a principal on his team adopting these habits, creating a healthy and successful competition between the two – which led to a visible increase in new business wins for the principal!
Nathan is also personally generous with his time and support for others from his team and junior recruiters in the company to his candidates. On two occasions, Nathan offered a heavily reduced margin to ensure that his contractors were able to stay on a project when budgets were cut, preventing them from losing their jobs.
Judges' Comments:  Describing Nathan as "a creative thinker and straight talker", they said, "He takes an impressive long-term approach with his customers, which in itself raises the reputation of our industry."
WINNER: Elliott Jones, Hunter Bond
Why he won: Just two years into his recruitment career, Elliott is Head of Operations at Hunter Bond, having demonstrated early on that he had great attention to detail, tremendous IT skills and was exceptionally well-organised. 
Now he is involved in almost every aspect of the business, managing a range of support roles that include administration, back office, compliance, finance, IT, legal and payroll.
Elliott began his recruitment career at Hunter Bond as an associate, following the completion of his A-levels in 2018. He rose to senior associate within 11 months, but when his unique talents came to the fore, he was moved to a support role, managing client relationships and assisting staff.
His colleagues say Elliott "leads from the front, showing what it takes to be a top performer…he shows employees they're capable of anything they put their mind to".
His personal qualities are quite special, too. "Always the first to congratulate colleagues, Elliott organises celebrations for new deals, competition winners, birthdays, anniversaries, Christmas parties and nights out." During lockdown, he organised a virtual celebration of Hunter Bond's sixth anniversary, among other team and individual meet-ups. Co-ounder Lee Ballen says of Elliott, "During lockdown, Elliott kept the team together as one."
Recalling that Elliott took him to lunch on his first day at Hunter Bond, a colleague says that Elliott is "by far the most inspiring person I've ever worked with".
Another colleague says that Elliott's "ability to learn new tasks seamlessly and adapt to new situations" are absolute stand-outs.
Judges' Comments: They were "incredibly impressed" with "this inspiring and energetic individual", particularly with his "positive energy and care for others"…"clearly understanding how he can positively impact the wider team". They went on to say that they like to "bottle his love of life" and characterised him as "a wise and inspirational person".
WINNER: Ann Rose, Jane Lewis Healthcare
Why she won: Working in some of the most complex and sensitive areas of healthcare recruitment, Ann brings a winning combination of tenacity, charisma, initiative and commercial acumen to her role as manager of Jane Lewis Healthcare's Shropshire branch in Shrewsbury.
Under Ann's leadership, the branch delivers both Nursing and Social Care temporary staff including continuing care packages commissioned through the local health authority for complex care in the home. They also are a provider of palliative care, delivering rapid response support to facilitate terminally ill patients to be cared for in the home.
"Delivering care to a palliative client is an incredibly challenging framework and requires the utmost tact and sensitivity, bridging clinical necessity with the need to ensure dignity and comfort, and often balancing wider family expectations with the reality of care at home," her colleagues said. "Ann has enshrined this professional ethos into her recruitment, training and care planning…that gives each individual an end-of-life pathway unique to them."
Ann's many and diverse achievements include her successful relationships with key stakeholders in regulatory bodies, the procurement sector and local community authorities, all of whom recognise her as an expert in her field. She has created a portfolio of competency-based training courses. Through her innovative approach to appraisal and supervision, she has created development pathways to both her office team and her field-based workers, championing training to upskill her workforce and access enhanced markets.
And as a key indicator of business success, she is significantly ahead of her pre-Covid budget.
Judges' Comments: "As a leading example across the industry, Ann knows that it is fundamental to put the right person in the right role and understanding the client's needs, supplying good staff to do a good job." One judge was so impressed that he added, "Why are you not running the company?"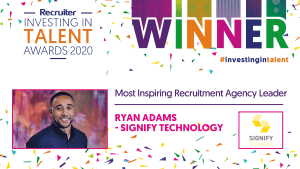 WINNER: Ryan Adams, Signify Technology
Why he won: From providing personal branding workshops and courses for all staff at Signify Technology to doing everything he expects his employees to do, Ryan Adams is building a recruitment business that is designed for every member within it.
In the Covid-19 pandemic, Ryan has risen above and beyond the occasion to both drive the business and take care of his employees. Mental health is one of his priorities, being of "utmost importance" to him. "He truly believes that your career should make you happy and add to your life," his colleagues say. "in an industry where the stress levels are higher than most, Ryan has always ensure that his team feel safe to admit if they are struggling or come into troubling times."
For instance, he has organised multiple sessions with mental health professionals for the whole team for discussions about managing stress and building resilience and covered the cost for each employee to have an individual account on the mental health app Everymind.
A great believer in collaboration, he saw employees struggle to do so during lockdown and then had the collaboration tool Slack installed for staff throughout the global company. He encouraged staff to take time out and use Slack as a platform for keeping in touch with colleagues.
For Signify's candidates within the global tech community, he organised the company's first annual Scala in the City Virtual Conference which benefitted not only software engineers but also charities that were fighting Covid-19. The 13-hour conference featured 13 speakers from around the world and raised £10k for both the NHS and Doctors without Borders (Medecins sans Frontieres).
With so many efforts in so many important and profound directions, his colleagues summed up Ryan this way: "He is a friend, a confidant, a motivator and a guidance counsellor to us all."
Judges' Comments: The examples of how Ryan inspired his teams across three locations were "full of empathy, innovation and authenticity". They were impressed with his "empathetic leadership, delivered with care. His approach to developing staff towards promotions by including scores based on customer service is a best practice that serves to elevate the reputation of our industry".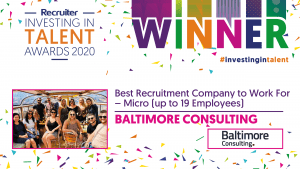 WINNER: Baltimore Consulting 
Why they won: This Bristol-based company, specialising in senior appointments and niche recruitment to the Public and Third Sector, has made staying positive a priority during the ongoing Covid-19 crisis – and undertaken a variety of initiatives to help staff do so.
The company purchased desks, chairs and equipment to ensure that each employee's home environment was suitable for work.
Also, employees' contractual hours were reduced to ensure that they could maintain a work-life balance, with breaks scheduled throughout the day to encourage time away from computer screens. An emotional intelligence programme was conducted for employees throughout lockdown, and employees were encouraged to develop talent and skills outside of work. On Fridays, employees could work half a day. To get people out of their chairs and get blood pumping, exercise classes were run in the morning and at lunch.
In positive operational developments during the pandemic, Baltimore Consulting's aged debt over 30 days has improved, dropping from 48% to 15%, thanks to the hard-working finance team keeping well on top of their workload while working remotely.
Externally, Baltimore's employees have been active in promoting positivity to their local community through advocating unity and self-development via social media channels, as well as encouraging clients and candidates to create and post their own videos of how they were keeping positive during lockdowns.
"Behind every successful business is a passion to improve – for us, life is not standing still," a company statement says. "Through self-awareness, we can identify our own strengths, our areas to improve upon and in turn understand others."
 Judges' Comments: "A stand-out in this category…clearly committed to specific training and development needs and recognising their employees through an innovative and structured programme…Very impressed with their employee retention and the commitment shown to health, wellbeing and charity work."
WINNER: LEAP29
Why they won: With head office in Wilmslow, Cheshire, global recruitment company Leap29 operates in the UK and beyond in Malaysia, the Netherlands, Singapore and the USA.
Leap29 has unified its team and recognised their achievements by making all employees shareowners in the business. [Note: a new scheme was to be launched this year to include newer employees who had joined since the first round.)
The company's approach to recruiting its own talent and career development is refreshing: "At Leap29, we don't hire superstars – we build them, and we are proud to say that every single one of our managers started at Leap29 as trainees and have progressed through our 'Leap Forward' talent growth programme."
New joiners to the company receive a personalised joining pack that includes a breakdown of their tailored training programme. They also are assigned two Culture Buddies who will take the newcomers out for a company-paid lunch on their first day and introduce them into the company.
During the Covid-19 crisis, Leap29 has had no redundancies or furloughs. Frequent communications between managers and staff, and also routine calls with the company's HR manager, have been a hallmark of their Covid-19 response. "Our client and candidate crisis response has been led by empathy and reassurance," the company says.
To ensure employees know they are valued, the company offers a variety of recognition opportunities including a monthly Reasons to be Cheerful round-up, which has been increased to weekly announcements during lockdown. A new peer-to-peer recognition scheme called Culture Cards has been introduced in the past year that has helped build stronger relationships within the team.
Wellbeing during lockdown discussions, charitable activities, and investment in state-of-the-art IT infrastructure that has helped the team work efficiently and comfortably from home are just a few of the other considerations Leap29 makes to demonstrate their employees' value.
Judges' Comments: "A fantastic example of a business that demonstrates an authentic commitment to its employees through its people-centric culture and commitment to development, building talent from within and personalising training and inductions. A strong culture of care and communications throughout the pandemic and beyond…"
WINNER: Oscar
Why they won: An international recruiter with over 70 employees, delivering talent solutions using a multi-brand approach through Oscar Technology, Oscar Energy, Oscar Construction, and its recently launched Life Sciences and Digital brands.
The judges said Oscar has an impressive number of employee benefits and incentives covering financial, lifestyle, stress management, counselling and flexible working, for instance.
Oscar offers a transparent career structure, and provides internal staff mobility across all of its territories. The firm helps staff members to work not only in different markets but in the various geo-locations across all its international offices, supporting employees with generous relocation packages and assistance with applying for visas.
In keeping with its culture of recognising hard work and achievement, employees are recognised with bespoke awards and promotions and other milestones are announced throughout the company.
High-achieving staff are typically rewarded with holidays, but due to Covid-19, Oscar decided to hand out 'Tickets for the Plane' so that these rewards could be taken when it's safe and possible to do so.
Oscar maintained contact with and facilitated virtual interviews, on-boarding, catch up meetings and training for employees, clients, candidates and contractors alike through its online video and interviewing platform, OscarLive! – maintaining a 'business as usual' stance.
Judges' comments: "An impressive entry, which highlighted how the use of technology meant Oscar was able to continue finding the best candidates, as well as staying in touch with its staff and clients in a tough global environment."
WINNER: Goodman Masson
Why they won: Goodman Masson is a finance, technology and RPO recruitment business. Headquartered in London, with offices in Dusseldorf and New York, the recruiter employees a team of around 160 staff.
In an extremely hard-fought category, the judges decided that, with The Benefits Boutique, Goodman Masson went beyond excellent staff incentives – investment in a happy workforce and a great place to work has meant the firm stood out in front of the competition.
As part of The Benefits Boutique, the many personal quotes from employees about the new parents' scheme, the mortgage fund, the buy a house fund and exotic holiday savings programme highlight just how important these bespoke employee benefits are for staff.
Its Wellbeing@Home platform was created to maintain a strong feeling of connection, a sense of fun and a platform for daily communication for everyone during the pandemic – even those on furlough. Its three strands – Stay Connected, Stay Active and Stay Healthy – help to keep staff connected and feeling part of the company, especially when working from home.
CEO Guy Hayward is at the forefront of showcasing what Goodman Masson has to offer. As well as communicating on a one-to-one basis with staff, Guy undertakes weekly video conversations, company news – as well as a weekly 'core' workout for staff.
Thorough application and thought-through approach with a different environment through the pandemic. Recognition of work-life balance and flexibility, which was evident throughout everything they did.
Judges' comments: "The remote befrienders programme stood out there as well, in terms of community support and investment of time."
WINNER: VIQU
Why they won: When the Covid-19 pandemic struck the UK in Spring 2020, the team at VIQU Recruitment recognised that the resources of the NHS were under terrible stress. Another issue staring VIQU in the face was the number of out-of-work IT contractors who were looking for jobs and even offering their work for free.
The company then contacted every NHS Trust to offer them a free service of supplying them with skilled IT contractors who filled skill gaps and helped to deploy urgent projects on a voluntary basis.  
One such organisation was the Aneurin Bevan University Health Board, which serves six different areas of Wales, and was one of the first Trusts to respond. Nine volunteer IT specialists were placed there by VIQU in the following roles:
One assisted with the Trust's migration and implementation over to Office 365.
Another led the migration and adaptation to Office 365 throughout Aneurin Bevan and collaborating with NHS Wales.
Volunteer AI Robotic Process Automation (RPA) project managers assisted with the implementation of key and state-of-the-art software in relation to RPA, utilising robotics to manually transcribe key medical information and data entry where the healthcare system failed to do so.
'Attend Anywhere' trainers provided training for a bespoke system allowing Trusts and medical staff to reach vulnerable people through video conferencing. The three volunteers have performed over 2,000 sessions between them.
MS Teams trainers provided vital training for full-time employees at the Trust who now work remotely.
One IT trainer provided IT training services across the board as well as performing IT support duties.
Of the nine volunteers, a number continue to volunteer their skills and services to Aneurin Bevan. Four have transitioned to full-time paid contracts at the Trust.
Mike Ogonovsky of Aneurin Bevan's Informatics Directorate said, "When we were initially approached by the guys at VIQU, we were worried it was some sort of scam. Instead, what we found in our hour of need was masses of goodwill, expert IT volunteers and much needed help to support our health board, which had been hit hard by Covid-19. The impact of these volunteers has been felt by our doctors, nurses and…our Informatics team."
Judges' Comments: "VIQU's efforts in its Covid-19 IT professionals volunteer initiative gave a great example of creating a culture of teamwork and collaboration."
WINNER: Omni Resource Management Solutions
Why they won: Omni RMS, with a workforce of nearly 60, is a resourcing transformation specialist and provider of recruitment process outsourcing (RPO) that helps organisations change the way they resource for the better.
The UK Lighthouse Laboratories Network was rapidly mobilised in April 2020 to combat the Covid-19 pandemic. With no recruitment infrastructure in place, Lighthouse urgently needed 500 lab scientists, bioscience leads and data scientists to mobilise the government's Covid-19 testing programme. Omni managed to find and appoint the right candidates in under four weeks.
Omni's commitment and determination to deliver for Lighthouse Laboratories was evident, along with the success of the campaign through impressive candidate retention rates.
Omni's approach was so successful that a planned programmatic campaign using highly targeted adverts was deemed unnecessary as over 1,000 people applied for the posts. Success was also reiterated by the fact that 95% of hires currently remain in their roles.
The judges said this is testament to Omni's thorough onboarding process where new employees conducted questionnaires to assess how they were settling into their new role.
Omni's team worked tirelessly to ensure delivery of the right hires for this critical Covid-19 testing programme, which was delivered 'at cost' to further support the healthcare sector and the fight against COVID-19.
Judges' comments: The judges were impressed with the innovative approach of this submission and how quickly the business responded to the needs of their client."