Held at the Brewery, London a fantastic evening was had by all, celebrating the hard work and achievements in recruitment talent last year.
This year's winners demonstrated outstanding innovation, effectiveness and impact, bringing superior value to their business partnerships and relationships.
Congratulations to all 2018 winners.
See below for some pictures taken from the Recruiter Investing in Talent Awards 2018
Powered by flickr embed.
Winner: Major Players
Creative, digital and marketing recruitment company has doubled its turnover in the past three years, and increased its headcount from 50 to 96 staff. Freelancers and contractors have helped enormously in achieving this growth, and consequently Major Players has doubled the freelance desk and invested heavily in contractor care.
Around 26,000 freelance candidates on its database, with 380 contractors/freelancers out at any one time and growing – 98% of contractors would recommend Major Players.
Meet every potential freelancer face-to-face, finding out about their motivations and goals, as well as their skills, and create a personal candidate profile. Once approved by a client, the candidate is given a detailed brief, and supported throughout their placement with regular phone calls.
Between assignments, freelancers are called weekly. Invited to innovation groups, events at Major Space (interactive meeting space at Major Players HQ), and to take up extra skills training. And for loyal contractors, if a client cancels a booking that is longer than a week, or if a client cancels at the last minute, Major Players will pay up to three days' work to support them and help build loyalty.
Launched Major Collective – a freelance community that has been created to reward and work in partnership with contractors/freelancers to help them to feel as if they are not lone-wolves in the freelance world.
WhatsApp group is available for any emergencies that any freelance consultants can respond to during the evening or weekend, along with remote working, and access to the company database via an app and cloud call.
Judges' comments:
"Major Players clearly thinks about the life of a contractor and what they need, and then look to try and help. For example, free workspace, contractor awards and networking, paying for cancelled assignments. They listen to contractors' needs."
Shortlist:
Rullion
Winner: Gravitas Recruitment Group
Global specialist recruiter Gravitas Recruitment Group focuses on the technology and insurance/finance sectors – 80-85% of all new hires are graduates straight from college or university.
Gravitas works on an organic growth model – bringing trainees in, giving them the support, tools, training to succeed and then fast-tracking them to management.
To appeal to and reach its target audience of graduates, Gravitas conducted an employee survey to build its 'We are Gravitas' employer brand. Through ongoing employee feedback, the company can constantly improve its culture, communicate better and use its employees' own social media networks to attract talent.
The training starts with an employee's onboarding, where they come into the business for two weeks to meet people, understand how the company works and get a feel for the culture before their formal development and induction begins. They are also allocated a buddy, plus a certain amount of mentoring by a manager.
Comprehensive Learning & Development kicks off with an intensive two-week programme, starting with five days in Gravitas's Training Lab. Stage 1 is the Consultant Development Programme (CDP), which combines classroom training integrated with one-on-one on desk coaching, presentations and role plays, is made up of 15 modules. Formal sign-off takes up to nine months, when they are promoted to post-CDP consultant, then on to Senior CDP, which is usually around 12-18 months.
Rewards along the way include quarterly bonuses, holiday incentives, monthly lunch clubs, early finishes, team nights out, paid volunteering and awards dinners.
Judges' comments:
"Strong graduate recruitment strategy with a comprehensive learning and development offering for all new starters that includes mentoring/coaching, continuous professional development and a dedicated training lab. Graduates are given a wide range of responsibilities in a supported environment. Gravitas learns from people exiting, and continuously improves its programme."
Shortlist:
Resource Solutions Group
Winner: Catherine O'Beirne, Harrington Starr
From arriving in London five years ago from Ireland with £500 in her pocket, Catherine has shown a steely determination to become the best that she can be. She got a waitressing job and worked her way through to front-of-house at Jamie Oliver's Fifteen restaurant owing to her personable nature and brilliant work ethic. And this has certainly translated into her arrival at Harrington Starr as recruitment consultant, where her managers describe her as "outstanding".
She has broken the eight-year record for the business for the best individual newcomer from outside recruitment and won £100k accounts for the business. She has done this in a start-up part of the company where accounts are not relied on – and in the ultra competitive financial technology, or fintech, sector.

Catherine inspires other colleagues by being a consistent source of positivity, fun, hard work and brilliance. She has set the bar for a first- year recruiter in the business, contributing well over £250k with no previous recruitment experience.

She is a shining example to other new starters of how a commitment to learning, making mistakes and being absolutely determined to do her best will allow them to be successful too. She takes time to sit with new starters and share her story.

Catherine is infectiously enthusiastic and a cheerleader for her team. She is a passionate cross-seller, especially for the New York team, and a pace setter for activity in the business.
She vlogs regularly and has become somewhat of a celebrity around the city having been recognised for her appearances on LinkedIn. Others can learn about the importance of creating a personal brand – but most of all they can learn that being a nice person is the best business strategy.
Judges' comments:
"Catherine posses real presence and authenticity, using social media to develop her own brand. She is widely recognised as a professional with personality. She listens well, is a very genuinely inspiring, successful recruiter, breaking numerous records and setting new benchmarks in her 14 months in the industry. A very worthy winner of this prestigious award and a true credit to the recruitment profession."
Shortlist:
Ben Appleyard, Opus Talent Solutions
Heather Eaves, Term Time Teachers
Sarah Scrutton, Source Technology
Winner: Sentinel
ICT specialist recruiter Sentinel is the outstanding winner of this category. Headquartered in Tunbridge Wells in Kent, Sentinel has nearly 40 employees across its offices in London, the Czech Republic and Switzerland. The company decided from its very beginning in 1998 that a flexible strategy increases productivity, has a positive push on momentum and motivation, and applies to all members of staff, with no exceptions.
Staff have autonomy on how their flexible working week is managed, providing a large trust element, and is managed on the company's intranet system E-Days. Employees have the option to automatically update their working hours, even remotely.
Employees can book their own holiday, time off in lieu, maternity/paternity leave, medical appointments, late/early lunch, medical appointments, working from a different location and unpaid leave among many other options.
Sentinel's integrated flexible working has been integrated into its talent recruitment drives based on the success of retaining talent. By offering talented individuals a flexible working model the firm has found it can access strong talent for whom a standard 9-5 structure wouldn't work.
The company has seven members of staff who opt to work out of regular office hours, and many parents and single parents find that the support Sentinel offers with its flexibility helps them to not only balance their work and home life but flourish at work.
Staff retention is shown by the number of years employees have remained at the company: Over 15 years – five people; 10-15 years – five people; 5-10 years – five people; over three years – nine people.
Judges' comments:
"Sentinel genuinely seems to recognise that most people flex work around life rather than life around work and have built their business in a way to allow staff the flexibility they need to live their life while still being successful at work."
Shortlist:
Robert Walters
Winner: Digital Gurus
Digital and IT specialist Digital Gurus became part of the Rethink Group in 2017, when founder and managing director Farooq Mohammed decided to become part of a larger business to offer more for clients. The recruiter now has 120 staff in six offices on three continents.
The offices are fun, modern, open spaces, allowing staff to feel at home. In 2017 the London team moved into one combined office in Bank, a modern, central location with easy access via the tube, and also a lively and central workplace.
£100k was spent revamping the Digital Gurus Manchester office into an office of the future, with a break-out space compromising 2,000sq ft, used for meetings and networking. The office space is also a perfect venue for Digital North, an event in Manchester that brings together the tech forces of the North of England.
Each office has either a pool table or a table tennis table, top-of-the-range coffee machine, Netflix subscription, smart TVs and Playstations, so teams can relax and unwind at lunchtime or during the early evening. Some of the offices have gyms on site (Birmingham and Dubai) whilst the rest are based in central locations where gyms are a five-to-10 minute walk away.
Investment also includes collaboration desks, soundproof 'horseshoe' seating arrangements and dedicated meeting areas to encourage group working, with comfy chairs and sofas. All areas have white-boards and large screens to write, brainstorm and present information on.
Judges' comments:
"This year has seen a clear substantial investment in improving the workplace within the sector. The judges feel this honest application has been driven by the right motives – creating a great workplace judged solely by gratitude and happiness of the staff. Well done Digital Gurus!"
Shortlist:
Franklin Fitch
Goodman Masson
Hunter Bond
Marlin Green
Source Technology
Winner: Major Players
Creative, digital and marketing recruitment firm Major Players was previously corporately-owned by Randstad and is now an independent business. With an office in the UK, the recruiter is now planning international expansion to Berlin and New York.
The strategy has been to focus on people as the backbone of success. Improvements can be seen in culture, and the wellness, training, career paths and engagement of staff. As a result, retention has improved by 10%.
Wellness initiatives have been introduced to support mental health (including eight sessions of free counselling), flexible working, staff innovation groups and significant investments in staff benefits.
Unlimited holidays were introduced for all staff to instill trust and create a better work-life balance. Major Players is also piloting a four-day week (with staff paid for five) on one of its teams.
Opportunity to earn commission from day one, based on 10% of all billings. At six months, anyone at consultant level or above will be set a threshold of £6k; resourcers or associate consultant-level employees have a threshold of £3k.
Commission scheme is designed to fairly reward both consistent and high billers. The company keeps a check on both salaries and commission schemes within the industry to ensure that it remains competitive, as well as regularly asking for staff feedback through engagement surveys.
Judges' comments:
"Interesting submission and wide in scope. The diversity of benefits is wide ranging, from unlimited holidays to piloting a four-day working week and other flexible working arrangements. Major Players also cares about its community and offers volunteering days for their people to help."
Shortlist:
Your World Recruitment Group
Winner: MRL Consulting Group
MRL Consulting is a niche technology recruiter within the microelectronics sector. Its 52 staff are located across three offices in Brighton in the UK, Nice in France and Dresden, Germany.
The company's innovative benefit is a one-month, fully paid, untargeted sabbatical, with £1k for the employee to travel to a destination of their choice, or use the time for rest or relaxation.
The benefit was created to tackle the fatigue in recruitment. Given the trend for staff turnover within recruitment, it allows workers a decent break. The other aspect was how travel enriches the soul, and so gives staff members the opportunity to see the world more than they might have ever deemed possible.
It is offered to every single employee of MRL, back office or consultant, whether in the UK, France or Germany. We do everything as a group, so our benefits are shared equally.
The employee is eligible to take the sabbatical after five years of work, and again after another five. Additionally there is the option to take the benefit as another month's wage, making it a 13-month pay cheque for a year.
The benefit has been measured in terms of productivity, loyalty, happiness and staff retention – not something to see money back as such, but a reward for hard work.
Judges' comments:
"We liked the way MRL Consulting reimaged a traditional benefit in an innovative way by not only allowing the sabbatical on full pay but paying extra for that month so the employer could really relax and re-charge during their time off."
Shortlist:
Hays
Winner: Amoria Bond
Amoria Bond supplies niche recruitment consultancy services in skills shortage areas across six global brands: Technology, Engineering, SAP, Banking & Finance, Energy and Life Sciences.
Amoria Bond has had a policy of promoting from within since its inception in 2016. Long-term investment in people development and organic growth strategy has meant exceptional client service and record performance in 2017-18 led by the new, organically-promoted Executive Board (two managing directors, one director, finance director and operations director).
Board members have all progressed through Amoria Bond's established 10-Step Career Progression Programme and moving from trainee to a high-performing executive board is a great example of the company's long-term professional development.
Of the 158 employees, an impressive 96 were promoted internally between January 2017 and June 2018, including 20 into management level, six to director/executive level positions and founding directors transitioned to non-executive director roles.
Internal support teams make up 20% of the workforce and are an integral part of the business, providing excellent and consistent internal support – through investment in their own training – back to our Sales Teams.
In response to changing employee attitudes to professional development and how they prefer to learn, the company designed and developed the Amoria Bond Academy (ABA). Fully-launched in 2018 after a long period of employee-consultation/refinement, ABA is a bespoke online Learning-Management portal. ABA has significantly enhanced the firm's professional development offering.
Judges' Comments:
"Great deal of maturity behind its programme, tied into the business and applies to all members of staff. Amoria Bond also clearly invests a lot of its profits back into developing its workforce."
Shortlist:
Annapurna Recruitment
Franklin Fitch
Gravitas Recruitment Group
Harrington Starr
La Fosse Associates
Winner: Bramwith Consulting
Bramwith Consulting is a recruitment search firm working across all industry sectors but specialising in hiring into the procurement and supply chain markets. The 25 full-time staff are based out of the Blackfriars Central London HQ, with smaller, remote offices in Amsterdam and Philadelphia.
Diverse and inclusive culture, including an ethnically and gender diverse management team, which drives inclusivity both within the workplace and when working with clients.
Recognised by Business in the Community (BITC) as a UK Top Employer for Race and (to date) the only recruitment consultancy appearing on its list.
Bramwith Consulting's internal recruitment process seeks to widen the candidate pool as far as possible and then select on merit, rather than operating on a quota system.
The company monitors the ratios of those who apply for positions at Bramwith, seeing how successful they are in progressing to first-round interviews, then second-round interviews, how many are offered and how many accept offers of employment.
If ratios are out of proportion and do not reflect the make-up of the UK workplace over a calendar month period (ie. a much larger number of men vs women, or of white vs ethnic minority candidates), this is discussed in the monthly management meeting and steps made to address that balance in the next hiring round.
Judges' comments:
"The judges were impressed by a strong focus on diversity & inclusion in its business. Bramwith has a highly motivated workforce who are loyal and all actively working to provide opportunities for disadvantaged and underrepresented groups – for their clients as well as for Bramwith."
Shortlist:
Resource Solutions
Winner: Franklin Fitch
Founded in 2011, specialist IT firm Franklin Fitch has 32 employees operating out of offices in London, Cardiff, Frankfurt in Germany and Vienna, Austria, with plans for US expansion by the end of the year. The firm is committed to creating opportunity for its staff from both a professional and personal perspective. Benefits are reviewed on a six-monthly basis and evolve with the collective input of all employees.
Onboarding starts before the new employee joins, where all new hires are sent a copy of Bounce: The Myth of Talent and the Power of Practice by Matthew Syed to promote the message of embracing failure and emphasising that hard work and focus can help anyone to be excellent at what they do.
'Franklin Fitch Forward' leadership and sales programme offers training both internally and from external industry experts. The clear career progression structure is transparent, with clear criteria on what it takes to be promoted at all stages. Consultants are rewarded for their hard work with higher salaries, more benefits and well-deserved promotions.
Employees enjoy a 'no borders' policy, so if people want to move across the international offices on a temporary basis, the firm will arrange it. If employees want to take the leap to relocate internationally, Franklin Fitch will support that as well, with relocation packages and visa support.
Judges' comments:
WINNER
"This was a highly contested category. Franklin Fitch stood out for a clear career path tailored to individuals in the firm that allowed people to progress at pace with specific training & development. The leadership team has built a culture that sets them apart from traditional competitors in their sector."
HIGHLY COMMENDED
"The judges were very impressed by the quality of RedLaw's entry. The firm has worked hard to deliver a commanding external brand. It is clearly a rising star in the legal recruitment sector, and the judges recognised this with a highly commended award."
Shortlist:
Highly Commended: RedLaw
Baltimore Consulting
Boston Hale
Bramwith Consulting
Consilium Recruit
ea Change Group
Evolve Hospitality
ISL
Oakwell Hampton
Winner: First Recruitment Group
First Recruitment Group (FRG) is a global recruitment agency, with headquarters in the UK, specialising in energy, infrastructure, chemicals, manufacturing, aerospace & defence, technology and commercial roles.
Belief in the effectiveness of daily improvements. To realise the company vision – "Change the perception of recruitment by devoting ourselves to the happiness of our clients, candidates and staff" – FRG has adapted a truly collaborative approach from receptionist through to CEO, listening and consistently improving.
A dedicated People Development Manager helps increase and improve employee engagement. Benefits and incentives are improved through internal surveys and continual reviews, complemented by an anonymous monthly feedback tool.
Team successes are celebrated weekly through a company-wide e-shot, as well as weekly team meeting where good work is publicly praised and quarterly and yearly awards presentations. Long-standing employees are rewarded with champagne and vouchers.
Company has appointed a Business Improvement Manager to lead and engender a culture of business-wide improvement, which will also generate sustainable improvements to candidate experience, client service levels and employee engagement.
Judges' comments:
"The judges liked this company's approach to doing the basics really well. First Recruitment Group showed a strong commitment to learning & development, celebrating team successes (even the small ones) and its commitment to delivering its vision 'to change the perception of recruitment by devoting ourselves to the happiness of our clients, candidates and staff'.
Shortlist:
Annapurna Recruitment
Charlton Morris
Major Players
Oscar
VHR
Winner: La Fosse Associates
With 171 employees across five offices in the UK and US, La Fosse Associates works across a range of industries, specialising in IT, digital and business change recruitment. The firm has a shared vision that a culture with a heart is the best way to rapidly grow a great business.
Every employee has a financial stake in La Fosse through its Shared Ownership Scheme, which gifts staff 40% of the company's equity. As well as feeling fair, better employee engagement drives outstanding service for clients and candidates.
La Fosse rewards employees, not just for being star-billers, but also for their contributions to the company culture: anonymous nominations recognise those who help others, particularly in teaching new skills, in weekly 'Culture Wins' with nominees announced in the company meeting and awarded prizes; 'Non L&D Trainer of the Quarter' is awarded to individuals who consistently go above and beyond to teach others when it is not in their job remit.
A 12-week programme for new starters with non-recruitment experience was formed in conjunction with hiring managers at La Fosse. The intensive training is designed to establish recruitment competency, including: managing a candidate, resourcing, closing a candidate over the phone, writing an advert, lead generation and understanding discrimination law.
The LFA Learning Philosophy continues throughout an individual's career, through promotion to director and beyond. The company belief is that each individual, no mater how senior, should always want to try and continually improve – both on a work and personal level.
Judges' comments:
"An exceptional entry from a company that demonstrates well that its people are their most valuable asset. The reward and benefits package is innovative, supportive and indicates employee wellbeing is crucial. The range of L+D activities including structured induction are providing the opportunity for people to learn and grow. They have a clear company vision and goals – key to employees feeling they have direction and clear objectives."
Shortlist:
Amoria Bond
Goodman Masson
Gravitas Recruitment Group
Morgan McKinley
Pertemps
Winner: Yumi Hoshino – People First (Recruitment)
Administrator Yumi Hoshino's friendly manner and customer service skills made her an ideal winner in the judges' eyes. Having started as receptionist at People First back in 2003, she has been involved in almost every aspect of the business – apart from direct fee earning.
As well as supervising and mentoring subsequent receptionists, Yumi continued to ensure the smooth running of the office, but also became involved elsewhere, such as creating marketing materials and brand development, as well as assisting in the design and implementation of the firm's websites and databases.
Yumi embodies the company ethos – People First. She is always welcoming and friendly, and approaches everything she does with gusto and passion. She is dedicated and committed with a persistently sunny outlook.
Yumi looks after everyone's wellbeing, co-ordinating Free Lunch Thursdays, organising outings, the Christmas party and the People First Bake Off competition. When the air conditioning broke down during the heatwave, Yumi ensured everyone received an ice cream to cool them down, as well as arranging for mobile air conditioning units to be brought in.
Being bilingual and bi-cultural, Yumi can offer reassurance and explain things to the high volume of People First's Japanese temporary workers, who may have never worked in the UK before. Yumi meets with all these workers before their assignment to talk them through the process in detail – freeing up consultants' time to focus on sales. Yumi also helped to create a set of FAQs in both English and Japanese to support the temp workers.
Judges' comments:
"It would be easy for someone with Yumi's unassuming nature to be overlooked and undervalued. She clearly believes passionately in the People First's values and goes above and beyond to support the business. She is a loyal and extremely passionate ambassador for her company. The judges unanimously voted for Yumi – not only as the winner but as an outstanding example of what a support professional should be."
Shortlist:
Samantha Adams – Cordant People
Kevin Cooke – Pertemps
Claudine Eastwood – Harrington Starr
Alex Flowerdew – Your World Recruitment Group
Winner: Michael James – Darwin Recruitment
Joining Darwin Recruitment in 2012 as a graduate trainee recruiter, from day one Michael has lived and breathed the Darwin values of passion, relationships, integrity, responsibility, accountability and drive. He has moved swiftly up the ranks, promoted to senior recruitment consultant by 2014, team leader in 2015, team manager in 2017 to his current role of business manager for North Germany earlier in 2018.
Uses his warm, engaging and effective management style to inspire his team, who 'go the extra mile'. His team are highly engaged with the company, energised to contribute, derive personal and professional fulfilment, and perform at their optimum. His team works as a single unit, despite focusing on different technologies and cities across North Germany.
Michael is coach and counsel to those who need it. He proactively aims to develop, empower and motivate his team, and manages under-performers effectively. He is genuinely concerned for staff wellbeing, and as a result, staff morale is increased. He values everyone's contribution and influences the positive culture of his team.
His recruitment vision is in stark contrast to the 'pray and spray' tactics often associated with the recruitment industry. As his team are wholly invested in building lasting relationships with both clients and candidates, consultants are able to set aside certain search tools as they're able to source via recommendation and word of mouth.
He spends a lot of time mentoring and training his team on Darwin's value-added services and the benefits of a recruitment partnership so they are fully confident in the true value they add to clients and candidates beyond candidate sourcing.
Michael and his team are extremely active in the Berlin tech community, founding the AI in Data Science Berlin Meetup. Hosting events every few months, they invite the most innovative data scientists in their network to come and share their knowledge and experience. Attracting 60-90 budding and experienced data scientists to each event, the team doesn't use them to 'sell' – they are purely educational.
Judges' comments:
WINNER
"The judges were struck with how Michael demonstrated genuine empathy for his team and their needs. He was willing to do things differently and challenge the status quo."
HIGHLY COMMENDED
"The judges were impressed by Freddie's maturity and drive, especially in his enthusiasm to change perceptions about the industry at university careers fairs."
Shortlist:

Freddie Short – Opus Talent Solutions
Martin Navne – Source Technology
Madona Rixon – Term Time Teachers
Andrew Wilson – Opus Talent Solutions
Winner: David Roberts – La Fosse Associates
Director of the Contracts division, David joined La Fosse Associates in 2010 when the business was just four years old, with 19 staff. He was the first graduate the company had hired, and joined with no recruitment experience. Today, with 172 employees across five offices in the UK and the US, Contracts is the largest and fastest growing division in the business.
David has a proven track record of taking graduates and turning them into star billers. Several individuals whom he hired at associate level at La Fosse have gone on to be senior managers in the business, with large teams of their own.
He only spends 20% of his time recruiting candidates, devoting 80% of his efforts into managing and developing people. He also spends a large amount of his time helping to devise and deliver bespoke specialist training for his division.
Despite being one of the most senior individuals at the business, he never seems too busy to teach others, and is approachable and willing to help when issues arise. He believes that people development should be at the heart of a modern recruitment strategy, providing exceptional support to both clients and candidates.
As La Fosse is built on an 80% associate (entry-level) hiring model, the business's success is dependent on finding brilliant people with a bias for learning and developing them to an exceptional standard. David's own career trajectory is a source of inspiration for every associate who enters the business, and a key driver in the success of senior management in Contracts to develop their own employees.
David ensures there is a solid emphasis on training, people development and both sector and role specialisation from Day 1 of a new starter's induction. David makes sure new hires are best placed to provide exceptional support to candidates and clients, and able to adapt to the changing market environment in the industry.
Judges' comments:
"David showed a strong commitment to working, developing and retraining talent, building teams of recruiters that combine both the commercial responsibilities of recruitment, as well as the heart and ethics leading to exceptional client to candidate sales."
Shortlist:
Jessica Brett – SmartHeart Professionals
Nadia Edwards-Dashti – Harrington Starr
Amy Hambleton – RedLaw
Matt Mangan – Source Technology
Winner: Ed Vokes – Evolve Hospitality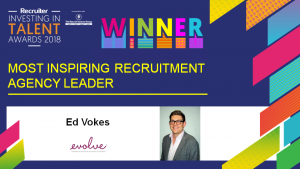 Director Ed's passion and belief in uncompromising customer service and true understanding of his client's needs were the catalysts that led to the birth of Evolve Hospitality in 2011. Since then, Ed has been recognised as making a real difference in the hospitality industry by being inducted into the National Restaurateurs' Dinner Hall of Fame – the only recruiter so far to have that accolade.
Ed's inspiration is felt every day within the office environment in his example of 'leading from the front', motivating his team to be involved in the wider hospitality community, his passion for training and development, promoting hospitality from a grassroots level and his infectious energy and drive.
His enthusiasm for the industry is contagious, and his personal approach is what differentiates him. He has a relaxed yet highly professional management style. What he has achieved is incredibly inspiring to his team and he equips them with the ability to go out into the industry and achieve their own goals.
Ed leads by example – he would never expect one of his consultants to do something that he himself wouldn't be prepared to do. He will spend time on the desks with his team phoning chefs or front-of-house staff, booking staff for training and going out to client check-ins.
He inspires the outlook and commitment of 'whatever it takes' to ensure the team delivers the level of client and candidate care Evolve aspires to.
In 2017, Ed started an intern programme called 'Graduate in the Making', partnering with the University of Ulster to give a year's placement to second-year students. Students are entrusted with the responsibility of a junior consultant role and given the opportunity to work with clients and candidates from resourcing, events staffing, bookings and check-ins. They become a part of the Evolve family and are rewarded and recognised for their contribution to the business in the same way as any other employee.
In 2017 Evolve moved to brand-new London offices as it had outgrown its old premises. The new space was designed from scratch to give the Evolve team a bright, modern office. Ed invested extensively in new and upgraded hardware, and ensured all staff received a brand-new laptop and soft phone technology to enable them to hot desk around the office and work between the Evolve branches.
Judges' comments:
"Truly inspirational with a genuine care for his people. He is recognised by his industry for making a difference beyond his own company, such as his induction into the 'Hall of Fame'. He recognises how he can use his influence to better both his company and the hospitality industry."
Shortlist:
Saffa Ayub – Bramwith Consulting
Toby Babb – Harrington Starr
Nick Baxter – Investigo
Hakan Enver – Morgan McKinley
Ricky Martin – Hyper Recruitment Solutions
Charmaine Vincent – Baltimore Consulting